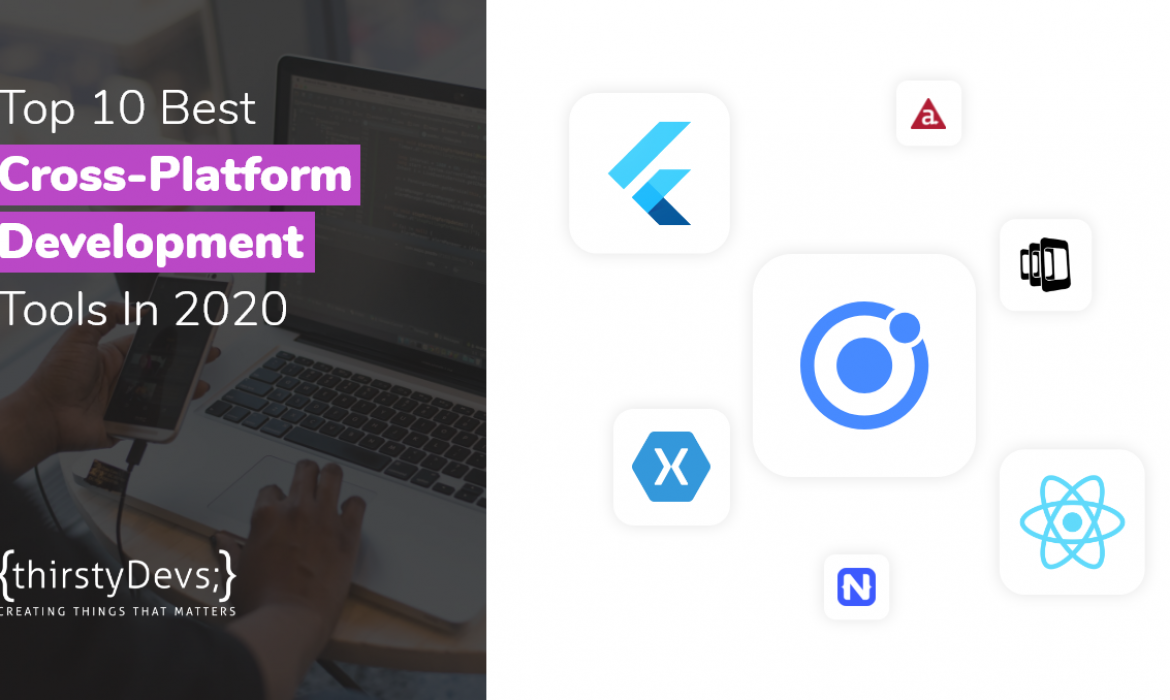 In this fastly growing world in the terms of the internet and other digital aspects where hybrid mobile applications have taken over people's lives where it makes it easy to know and grasp everything. Have you ever wondered how does these hybrid mobile application development is made? There are the best Cross-Platform Development tools that have made it efficient to develop a hybrid mobile application framework.
Mobile application developers make sure that the application they make is much user friendly so it gets maximum engagement and the interactions with it. Hybrid Mobile Application Development simply means the application available on both platforms that is as a web app as well as on google play store or app store. It is a generalization of the total Hybrid application development framework.  There are various cross–platforms available for making such applications. Choosing out of them will be a task. Let's sort the best 10 out of it for your reference.
Flutter
We all know well–known Flutter is for mobile app developers to use it in the way they want. It is an open–source platform for the SDK for developing various apps without any restrictions faced by developers. It is the best source out by google and lets developers work in their own way. It has minimum restrictions over designing and managing the whole process of Mobile App Development.
React Native
React Native is the best Cross-Platform Development that helps in making the various Hybrid Applications where it does not disappoint you in terms of designing and another process of developing an app. It supports and is well versed in the Javascript programming language. Along with Javascript it also supports the C, Swift, Python languages. It is much more flexible than other cross-platforms. It works as an editorial tool for videos and images. Though with all the multi–tasks that are carried out by React Native, it helps in the editing of various images and videos required for the app development. React Native identifies the source code and later it converts it to any native features in minimum time. It conserves your maximum time.
Xamarin
Xamarin is one of the platforms where applications can be made for any platform. One solution for all the programming platforms. When developers make any application through Xamarin, it feels like you are using native apps as Xamarin uses native interfaces first. It has inbuilt special tools such as debugging, various UI design templates, coding, and editing.
Ionic
It is best for the development of the web app. Web apps are most beneficial for the users as well as for the developers. It is quite cost–effective to develop any web app. With Ionic, you have the best opportunity to develop web apps as it is more engaging than others. It also uses various languages such as HTML5, CSS, and other important and basic languages. Mostly it is well–versed with the PWA platform to develop it. The best you can ask to develop for the PWA, Ionic is the right platform for it.
Cordova
Cordova is a simple cross–platform which is launched by Adobe. It generally looks after the mobile application development framework. It also provides the features of developing native features such as Mobile's direction compass, contacts, Camera, geo–locations, and another notification handling.
Redhat
Looking for the inevitable change? Redhat is the correct option to look for. It also provides the backend for mobile cross–platform development applications. There is various other mobile application management that can be managed by Redhat which makes developer's work easy to access and use. It supports in every form and also some backend support required in the websites, web apps, and mobile applications.
Sencha
The Sencha web application development platform helps in the whole cycle of making an application. From designing to launching it is taken care of by the Sencha open source development. It accurately follows the modernization while developing and it knows how to interact and keep up with the users. Services and after services is an important part of the Sencha. It helps develop an app by conceiving talented expertise for our developing applications.
Alpha Software
It has some advanced offline features which do not stop you from working even when the internet is not working. It has the presence of a powerful API where it can integrate with any other platforms. It has the coding optional low coding design options for the development of applications. It is renowned for its offline features amongst the developers.
Corona
Well, the only corona to recommend to the people which is open–platform for the users to develop applications. It is mostly recommended for gaming and entertainment applications for users. It supports every medium where such mediums are used and carried forward. Platforms like Kindle, windows, android, ios, and other programming platforms can access the corona version developed applications.
Appcelerator
is the platform quite similar to other cross–platforms where it supports the javascript language and every operating system for the use? It is also known as Appcelerator Titanium.
Cross–Platform Development is one of the top ten platforms used by developers were various benefits are entertained and attained by the developers. The hybrid application developers will always look for some of the best platforms to work on. Flexibility is the future amongst the youth and thus it needs to develop from now. It creates the whole Hybrid Application Development Framework presentation in front of developers to work upon.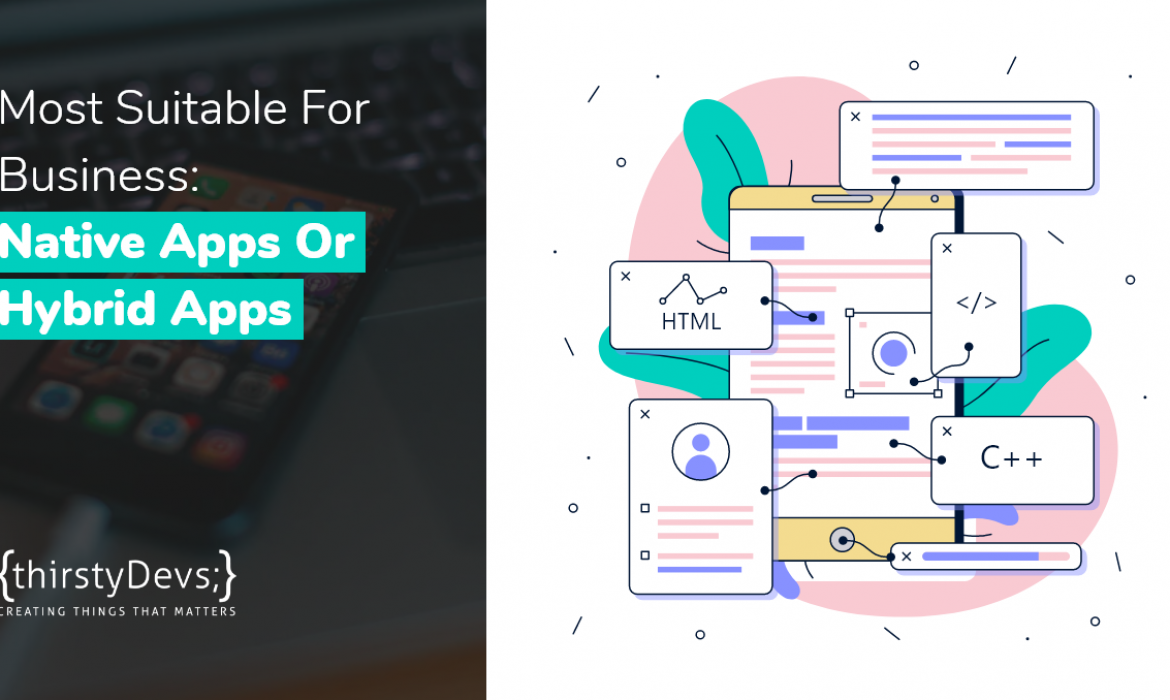 In a world full of digitalization and the era of the digital world, it has become more important than which applications are in demand concerning the type of application. Native Apps and hybrid applications have their benefits and features which enhance the people's demand for their choice accordingly. To know which apps are suitable for your business it is first important to know both apps in detail and precisely and gaining the correct information before you choose any virtual platform for your creation and to run your business.
There have been constant fluctuations in the market and the trends, developers, and business owners of the applications have to take care of the current choices of people in the market and make accordingly. There is always a constant ratio in the market of a particular thing where people's choice does not change. The concept remains the same and the user tends to use it frequently even in the different aspects of changes.
The mobile app market has been the most fluctuated in the terms of raise as the digital world is taken away by the various applications in the market. From the market status information, it has been stated that the Google Play store has reached up to 4.2 billion applications which are registered under them by the year 2018 and it has been maintained in the year 2019 as well. Android applications were higher than the ios applications as there were some restrictions with the ios users. Android application users ratio reached around 76% and the rest was ios. This shows that people are engaged in using the various applications that help in their day to day lives.
Native Applications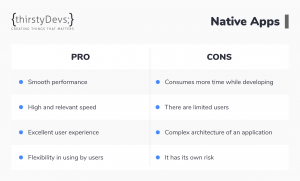 Pros
Smooth Performance
It has the performance which works smoothly as well as has the various running functions and features that are to be built for the better coverage of the application. It has rare cases of lagging problems and debugging issues.
High And Relevant Speed
It has a high frequency of speed which is expected by the users and it does not let the performance down while accessing it. Due to this, it is in high demand amongst the users though it has a specific platform for using and accessing it.
Excellent User Experience
From the above statistics, it is convinced that there are maximum users of the native apps and are always in demand to use it. There different types of applications that are used for various purposes in our daily lives that make people's lives easier. Due to such vast experience, it has an excellent user experience.  
Flexibility In Using By Users
Users feel flexible while using the native apps as they are more specific and to point where it has the user-specific features.
Cons
Consumes More Time
It consumes more time while developing the native apps as it has very specific features to be added while developing a particular application. As it works in particular platforms, it needs to be restricted in some ways so for developing that it consumes time.  
Limited Users
There are users which need a flexible user interface to operate it from any platform and the devices. The native application does not allow that and restricts the various platforms to use it. Due to this, there is a limited user preference for native applications.
The Complex Architecture Of The App
 It has a bit complex structure of the application compared to other types of application platforms. It is specifically working on a particular platform and so it is a bit restricted in the form of using it.
Bit Risky
It is a bit risky process and the setup, as it can be cloned by anybody and thus it has various debugging issues. Anybody can replicate it and make it their own by cloning the code. It is kind of risky to develop it. It needs high security for the interface and before launching in the market.
These were some pros and cons of the Native apps which helped in making it clear concept towards the native apps.
Hybrid Application
Hybrid applications are the combination of web apps and the native application which brings out the best for the users to use it in every platform they want. And, Hybrid Mobile App Development is operated from various platforms such as Windows, Android, and ios. This brings out the maximum user interface within users.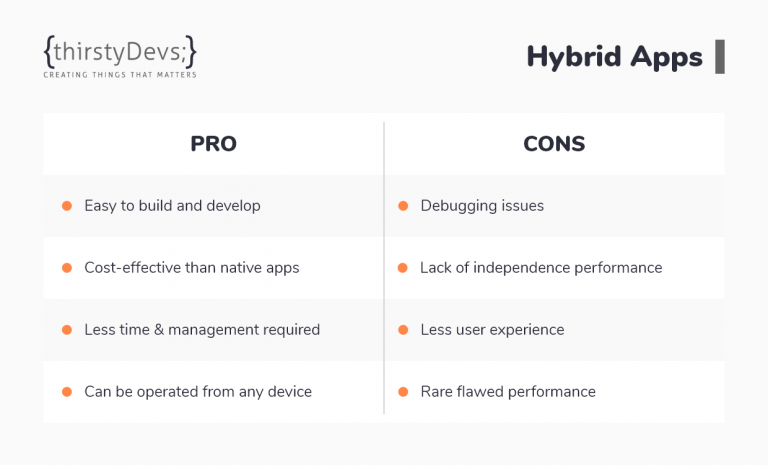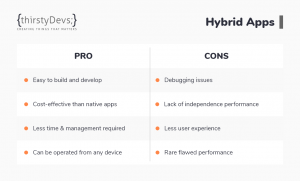 Pros
Easy To Build
It is much easy to develop though it is available on every platform. Also, it does not have any complicated structure to build, it is a simpler version of the applications. It is developed in a simpler way and uncomplicated manner.
Cost-Effective
It is built with less amount of money. It does not need more amount to be wasted in building the hybrid application as it consumes less amount of restrictions over the various platforms. So, it is a restriction-free interface for both users and developers.
Minimum Time And Management
It requires less time to develop it and it can be developed within no time. If a developer wants to develop an instant app or application with less time required then hybrid applications are the best option to look for. It requires the minimum time and hence it is approved and preferred more.
Flexible For The Platform
It is the most flexible platform for the use of apps. And, it can be operated from any device and used for various purposes. It has a less restriction site and also has an open interface to use it.
Cons
Debugging Issues
It faces various debugging issues as it has so many users to use it over numerous platforms and devices. And, it is solved in no time. It has the layered performance which is in between the mobile performed device and the source of the application. The work of the developers had to be worked properly to avoid such problems and work in a smooth flow.
Lack Of Independent Performance
The performance over the hybrid application platforms doesn't need to be always independent. It always needs a native plugin to function like Ionic and others. At last, it creates complicated errors when it is performed over new platforms and devices.
Less User Experience
Though hybrid application development is developed over numerous platforms, it does not work as smoothly as the native apps over every platform and so it faces fewer user experiences which is problematic sometimes.
Rare Flawed Performance
When it comes to the working of the high definition usage, there is a possibility that it may not work properly. It may not perform properly which will create less time in using it. There will be no preference for choosing hybrid applications when high definition work will be have to carry forward.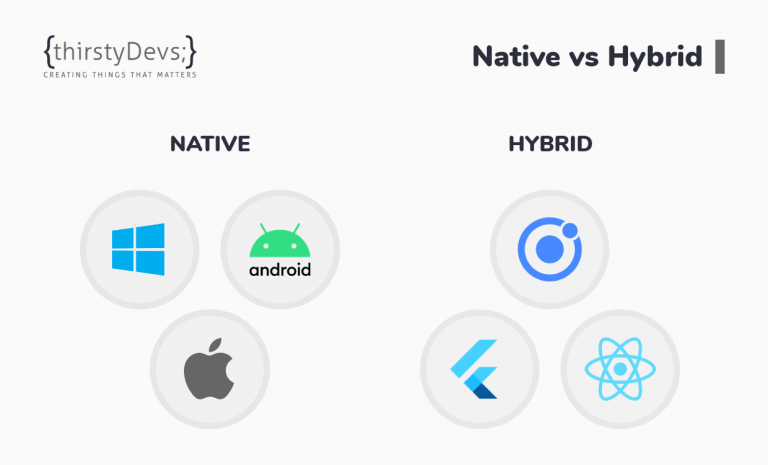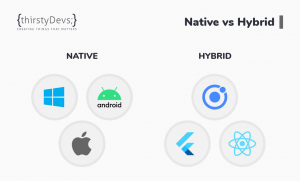 Now that we have some clarity for the native and hybrid application development platforms and individual apps, it becomes a little easy to choose. Mostly there will be confusion over the choice of the platforms. Both are best in their ways where often people tend to get confused. It is not always a straight decision where developers can choose any platform over anything. At least it all depends on the needs of the application which developers want to create and develop. It may become very easy to use but choosing the right platform or type of application is an important task. If you want to develop an instant app where you do not have much time, a hybrid application will be relevant to create it. A native application has its benefits where it is for specific platforms and devices.
Listing down priority and type of the application, it will let you take the right and relevant choice to choose the platform.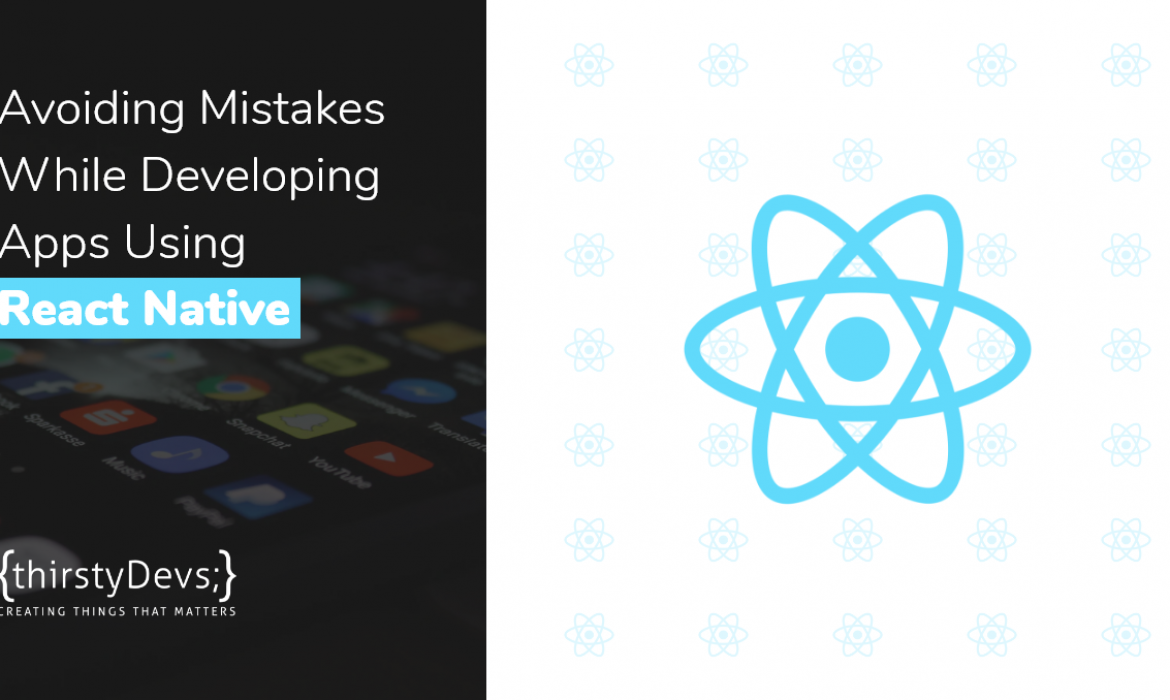 Introduction
In the world of smartphones and mobile application users, it is important to notify the timely update of the working of the phones in the terms of digitalization. People are looking for an easy way of going lifestyle where they can have the maximum easy-to-go lifestyle. We have various apps that are considered as the helping hand of the application. If I talk numbers, then there are almost 1.7k active people who are behind the learning and developing in the application in the React Native platforms. This helps in developing the application better and in the nicest way possible. 
The way the world is moving and adapting to digitalization, it has become one of the demanded things when it comes to mobile applications. It should be the most 
Benefits Of React Native
Usage of Javascript 
In the developing field, the developers start their working with Javascript which is considered to be the basic language and also the easiest of all. React Native uses the Javascript language which makes any newbie developer easy to learn and work on the platform that can be used to develop the mobile application over a short time. 
It Can Build Native Applications For The Same
We all know how native applications have built it over the people's hearts where one can totally rely upon this platform where one can easily build up the Native applications. We all know why we should Native applications, as it gives the maximum flexibility to the developers for working on the applications. There is a lot more flexibility in terms of developing and also conducting the development of the applications. The demand for Native applications and elements.
It Can Easily Be Downloaded And Can Be Installed From Any Browser
The flexibility of the downloading and installation should be at a high level, as people's usage of the browser may differ from each other. At last, browsers are the core part of the internet where one can access everything and anything. 
It Is Much Relevant And Has The Highest Productivity
The outcome is the most important thing especially when we are investing it online. If you have developed such a platform, it is important that the outcome which has to come should come, this platform provides the maximum and relevant products for the ones you have started developing the applications for a particular niche. 
It Has Strongly Supported Backup
For the ones when you don't have strong backup plans, the platform is of no use and it becomes useless for the developers. It was launched in 2015 and from that year till now, it has stayed the renowned platform where one can totally rely upon developing the platform and nothing more. 
Challenges Of The React Native
It Depends On The Native Apps For Developing The Apps
When it comes to the heavy addition of the coding, developers rely upon the native applications as the main language used in it is Javascript for the development of the applications on the React Native App Development where there comes the requirement of the native app developer. 
Lack Of Abstractions
To make one innovative application, it is important that the app is developed with more functionality, when it comes to the more functionality it has the addition of various layers of abstractions. The abstractions are already with technical issues and a lot more. It takes time in resolving it and though has to work with it. Needs an extra effort for identifying the bugs and then depending upon it when it is resolved. 
Lack The Multiprocessing Support
When it comes to adding various abstractions, sometimes developers need to multipurpose the work where one lacks the multi-work. The lack of multi-purpose work lengthens the work of developers and ultimately it takes time in developing. 
Mistakes We Make During The Development Of Apps In React Native
Incorrect estimation of the app through React Native platform

Lack of space/store planning

Unable to read codes from external modules. 

Leaving/forgetting "console.log"

Constant use of stable components even after updating the platform. 

Lack of optimization React Native images
Precautions
Practice And Keep Brushing The Skills
It is always said, practice makes a man perfect, but I always believe it makes everyone perfect. Constantly practicing on React Native makes you a finished skilled developer. There are various courses available on the various platforms which makes a difference if you are constantly practicing it. The affirmative results come out to be well-developed skills. It makes a huge difference when you are developing apps, which makes it straight forward about the designs and the creativity of the app designed. The difference is seen between the practiced and the skilled person when it comes to the presentation. 
Join With A Firm Who Believes In Brushing Up Your Talent And Performance Over Platforms
It is important what type of job you prefer when it comes to building yourself in your profession. Read some wise words, always choose a boss and not a job. The person who you are going to work for should be the role model of motivation for you. Choose a job that provides enough training to you where you have the maximum opportunity of gaining knowledge. Knowledge is wisdom where it embarks with you. Brushing up your skills and practicing over it makes a difference and it always marks yourself to a level. 
Conclusion
The react native developing application platform comes with the various advantages and disadvantages where developers can create the best application in terms of matching every expected piece of work. Things where one can totally rely upon the platforms for developing the various types and the best quality mobile applications.