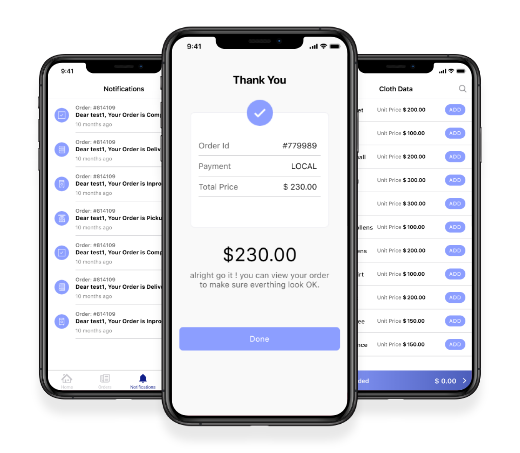 On-Demand Laundry App Development.
People have started searching for solutions for everything that could make their lives more simple, secure, and seamless. From groceries to handyman jobs, from Uber services to parcel delivery, people now want everything on the smartphones and accessible from anywhere. In an era where marketing is shifting to digital marketing, every business has to go online. On-demand laundry app development is a step of moving ahead in the digital market.
Building an on-demand laundry app brings the whole New Market space for laundry business and utterly seamless experience for users. With a few clicks and selections, people can now choose when and how their clothes need to be washed. On the other hand, laundry businesses can grow the market globally and get more and more customers.
Wash-My-Cloths mobile laundry App Screen Slider
Let's stop talking and show you how seamless and responsive our on-demand laundry app is. Given below are the screen sliders of wash-my-clothes.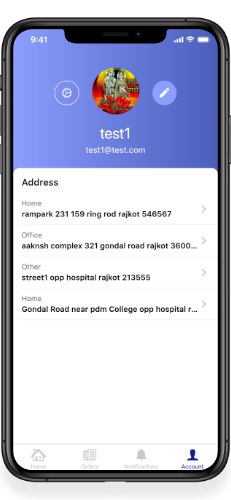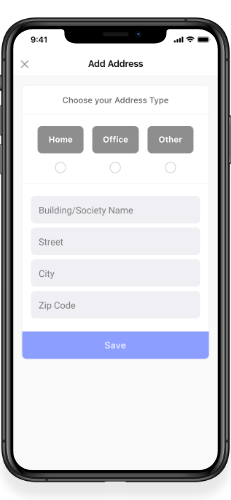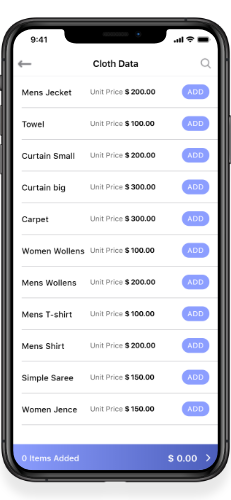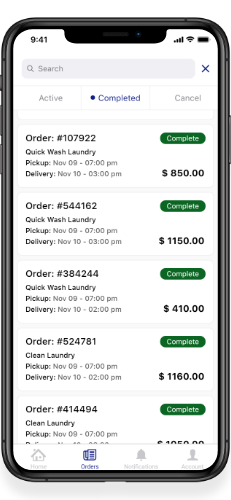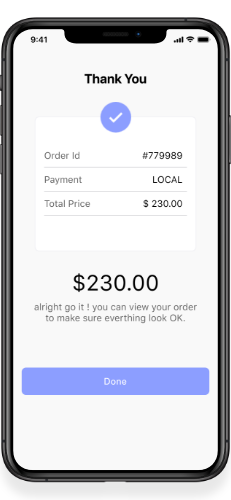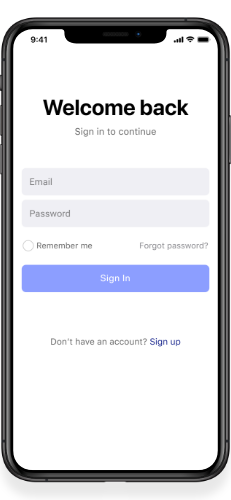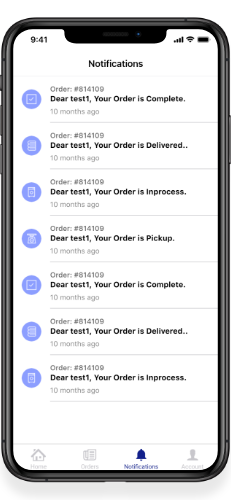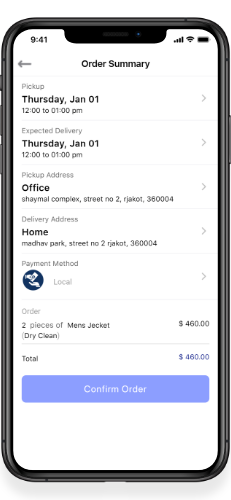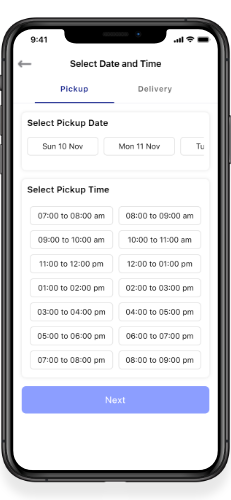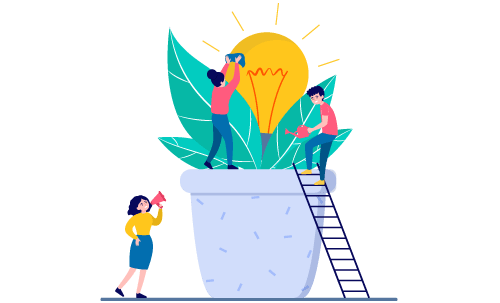 What is the Scope of the Laundry Service App?
In the digital marketing era, the only way to make a business successful is to launch an online format. As every well-established company has reached the global market, small services such as delivery, handyman, and laundry are still dragging in the old geographical market.
With our on-demand laundry app development service, even the laundry businesses can grow into the digital market space finding new opportunities and new market space; on the other hand, customers get their services done with few clicks on the mobile devices, which is the latest trend.
Hence, the opportunity to grow in the digital market is high, with competition being very low, giving a decent space for every business to grow. So, stop thinking and get your custom laundry app clone and give rise to your laundry business.
How to Start with a Laundry Management System?
Suppose you are willing to start your laundry service business. In that case, our on-demand laundry app development company will assist you throughout the process, helping you get your on-demand laundry app and establishing a secure network within your user app and laundry panel. Organizing your laundry service and providing a hassle-free service to your users on their mobile devices.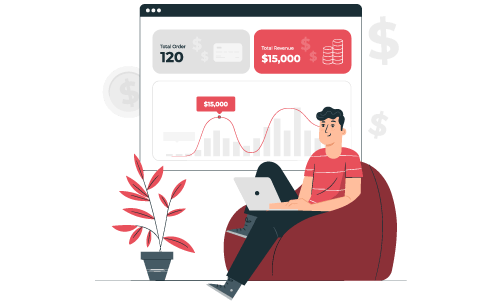 On-demand Laundry App Panel
Make your laundry service hassle-free with digital marketing. In order to make the laundry service simplified and user-friendly we provide three different panels that come with given features.
Organize and manage laundryman

Manage the laundry category

Manage content

View reports and analytics dashboard

View orders

Manage payment

User management

Commission reports
Easy registration with phone numbers and email addresses.

Send laundry requests.

Select from various laundry types and price range

View your order status in real-time

View history sheet of previous services

Schedule pickup and drop date and location

Pay using secure payment gateways and QR scanning.

Track laundryman with inbuilt Google Maps services

View offers and proposals from laundryman

Give ratings and reviews to laundry services.
Signup and log in using username and password

Accept or decline laundry proposals

View and manage profile

View order request

Manage offers and discounts

Manage laundry charges

View history reports

Manager reference and commission

Update order status

View reviews and ratings
How does On-Demand Laundromat App works?
Wash my cloth is an on-demand laundry app that assists and organizes both the user and laundry business to make their business hassle-free and simple. Power laundry app makes sure that customers receive faster services with better User experience.
User book the laundry service requirement and price range

The admin sends the proposed request to nearby laundry services.

The laundry service nearby accepts or rejects the proposal from the mobile laundry app.

On acceptance, the laundryman picks up from the assigned location and after service sends it to a given location.

During this process, customers get to track updates of the service and site of a laundryman.
Features of On-Demand Laundry App
Wash-My-Cloth is a laundry service app that includes features to assist at both the ends and enhance the user experience and grow the business of the laundryman. Given ahead are some of the basic features available in the on-demand laundry app.
Fully Automatic
The app supports artificial intelligence using the app managers and organizes everything by itself without requiring much attention from the admin panel.
In-app payment gateway
Multiple payment gateways are established in dry cleaners app giving users affordability to pay using secure inbuilt payment gateway.
Real-time tracking
Crackdown booking orders payment and other processes in real-time using the laundry app.
Order Management
The laundry app organizers all history reports into the admin dashboard and laundryman dashboard allowing admins to access customer and laundryman data anytime.
Affiliate earning
Users can refer to their friends using the inbuilt affiliate link and on special coupons and rewards, helping to grow business.
Push Notification
Admins can send push notifications to the users and laundrymen using a laundry app about events, news, and offers.
In-app messages
Uses and service providers can get into contact with each other using inbuilt messaging software.
Technologies We Worked With
We believe in Quality Services and hence our on-demand laundry app development is completely e user friendly and responsive. We know how to interact and get hold of customers and thus we use UI and UX which are developed by using professional and expert tools. Here is a list of tools and tech which bi we used to develop an on-demand laundry app.