In a world full of digitalization and the era of the digital world, it has become more important than which applications are in demand concerning the type of application. Native Apps and hybrid applications have their benefits and features which enhance the people's demand for their choice accordingly. To know which apps are suitable for your business it is first important to know both apps in detail and precisely and gaining the correct information before you choose any virtual platform for your creation and to run your business.
There have been constant fluctuations in the market and the trends, developers, and business owners of the applications have to take care of the current choices of people in the market and make accordingly. There is always a constant ratio in the market of a particular thing where people's choice does not change. The concept remains the same and the user tends to use it frequently even in the different aspects of changes.
The mobile app market has been the most fluctuated in the terms of raise as the digital world is taken away by the various applications in the market. From the market status information, it has been stated that the Google Play store has reached up to 4.2 billion applications which are registered under them by the year 2018 and it has been maintained in the year 2019 as well. Android applications were higher than the ios applications as there were some restrictions with the ios users. Android application users ratio reached around 76% and the rest was ios. This shows that people are engaged in using the various applications that help in their day to day lives.
Native Applications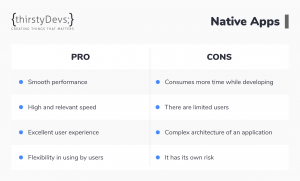 Pros
Smooth Performance
It has the performance which works smoothly as well as has the various running functions and features that are to be built for the better coverage of the application. It has rare cases of lagging problems and debugging issues.
High And Relevant Speed
It has a high frequency of speed which is expected by the users and it does not let the performance down while accessing it. Due to this, it is in high demand amongst the users though it has a specific platform for using and accessing it.
Excellent User Experience
From the above statistics, it is convinced that there are maximum users of the native apps and are always in demand to use it. There different types of applications that are used for various purposes in our daily lives that make people's lives easier. Due to such vast experience, it has an excellent user experience.  
Flexibility In Using By Users
Users feel flexible while using the native apps as they are more specific and to point where it has the user-specific features.
Cons
Consumes More Time
It consumes more time while developing the native apps as it has very specific features to be added while developing a particular application. As it works in particular platforms, it needs to be restricted in some ways so for developing that it consumes time.  
Limited Users
There are users which need a flexible user interface to operate it from any platform and the devices. The native application does not allow that and restricts the various platforms to use it. Due to this, there is a limited user preference for native applications.
The Complex Architecture Of The App
 It has a bit complex structure of the application compared to other types of application platforms. It is specifically working on a particular platform and so it is a bit restricted in the form of using it.
Bit Risky
It is a bit risky process and the setup, as it can be cloned by anybody and thus it has various debugging issues. Anybody can replicate it and make it their own by cloning the code. It is kind of risky to develop it. It needs high security for the interface and before launching in the market.
These were some pros and cons of the Native apps which helped in making it clear concept towards the native apps.
Hybrid Application
Hybrid applications are the combination of web apps and the native application which brings out the best for the users to use it in every platform they want. And, Hybrid Mobile App Development is operated from various platforms such as Windows, Android, and ios. This brings out the maximum user interface within users.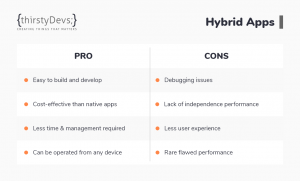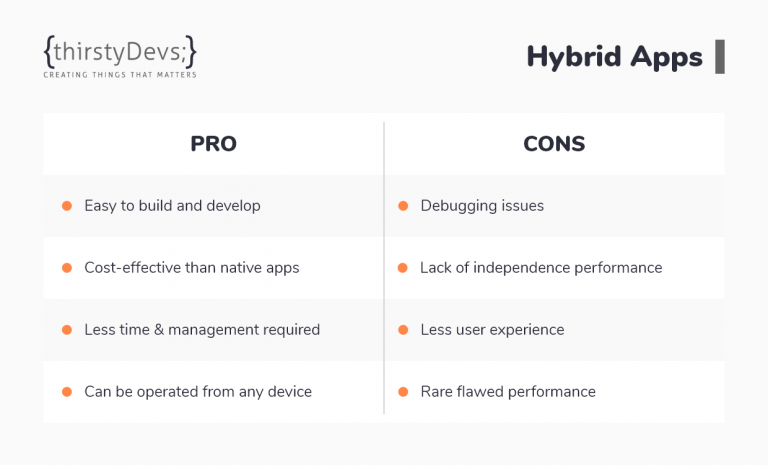 Pros
Easy To Build
It is much easy to develop though it is available on every platform. Also, it does not have any complicated structure to build, it is a simpler version of the applications. It is developed in a simpler way and uncomplicated manner.
Cost-Effective
It is built with less amount of money. It does not need more amount to be wasted in building the hybrid application as it consumes less amount of restrictions over the various platforms. So, it is a restriction-free interface for both users and developers.
Minimum Time And Management
It requires less time to develop it and it can be developed within no time. If a developer wants to develop an instant app or application with less time required then hybrid applications are the best option to look for. It requires the minimum time and hence it is approved and preferred more.
Flexible For The Platform
It is the most flexible platform for the use of apps. And, it can be operated from any device and used for various purposes. It has a less restriction site and also has an open interface to use it.
Cons
Debugging Issues
It faces various debugging issues as it has so many users to use it over numerous platforms and devices. And, it is solved in no time. It has the layered performance which is in between the mobile performed device and the source of the application. The work of the developers had to be worked properly to avoid such problems and work in a smooth flow.
Lack Of Independent Performance
The performance over the hybrid application platforms doesn't need to be always independent. It always needs a native plugin to function like Ionic and others. At last, it creates complicated errors when it is performed over new platforms and devices.
Less User Experience
Though hybrid application development is developed over numerous platforms, it does not work as smoothly as the native apps over every platform and so it faces fewer user experiences which is problematic sometimes.
Rare Flawed Performance
When it comes to the working of the high definition usage, there is a possibility that it may not work properly. It may not perform properly which will create less time in using it. There will be no preference for choosing hybrid applications when high definition work will be have to carry forward.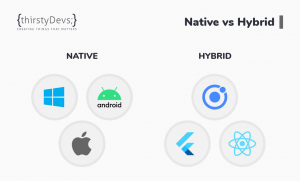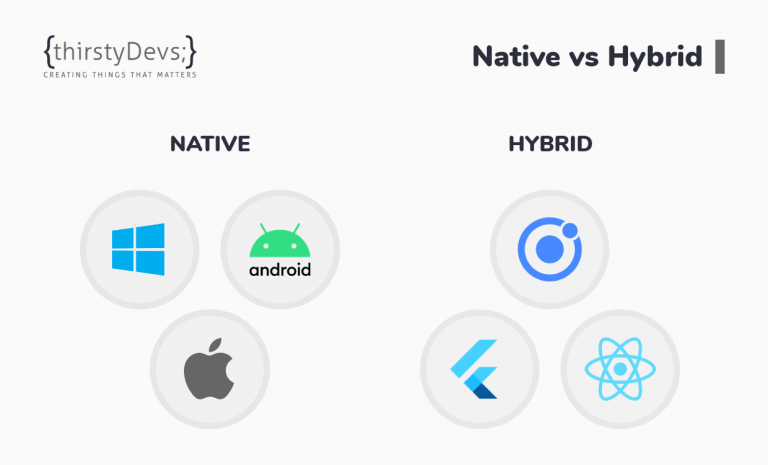 Now that we have some clarity for the native and hybrid application development platforms and individual apps, it becomes a little easy to choose. Mostly there will be confusion over the choice of the platforms. Both are best in their ways where often people tend to get confused. It is not always a straight decision where developers can choose any platform over anything. At least it all depends on the needs of the application which developers want to create and develop. It may become very easy to use but choosing the right platform or type of application is an important task. If you want to develop an instant app where you do not have much time, a hybrid application will be relevant to create it. A native application has its benefits where it is for specific platforms and devices.
Listing down priority and type of the application, it will let you take the right and relevant choice to choose the platform.