Providing creative and foolproof solutions to all your Mobile App Design related problems!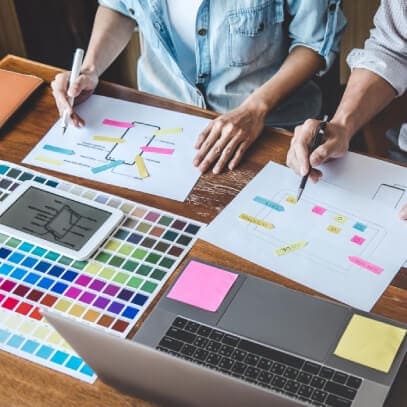 Everyone is now surrounded by different type of mobile phones in their pockets and many people are now accessing complex websites on their mobile phones rather than their desktops. We at thirstyDevs are providing mobile app design solutions to all of our customers on a budget-friendly basis. Our main motive is to provide mobile-friendly web design so that all of our clients are able to bring their business on the top of the ladder of success.
The procedure of developing a successful mobile app design is to provide a customised solution to all of the clients that come to us. Providing a successful solution to the problems of our clients is the main motive of our organisation. We have achieved success in providing customised mobile app design and also customised mobile web designs as per the wants and needs of the customers. Our mobile application designer is always working to provide the most suitable platform for all of our clients.
We start the construction of the mobile app design by following detailed and deep research which is conducted by our specialists. Our team focus on the needs of the clients so that we can develop the most suitable mobile app design. The research is undertaken after listing out the features that are wanted by the customers.
We analyse the market of our clients so that we can develop the mobile app which is unique in its nature and can be accessed by the customers anywhere and any time. We analyse the industry on which our customers are working on and try to develop the mobile web design as per the needs and wants.
thirstyDevs Infotech are experts in creating a responsive solution to all your problems regarding the mobile app design. So we are ever ready to develop adaptive solution which can be accessed on any platform irrespective of browser or the mobile handset. Also, we have experience in creating a wide range of designs which can be bent according to the needs.
We give full time on the solid coding of the mobile app design that we are developing. We focus on the needs of the industry and thus we try to create the most strong base of the app that will help it to be operated in the long run. Our main focus is to develop an app which is strong in nature and can be operated for years.
● Creative Visual Designs
We understand the need for creative software and thus we try to develop creative visual designs for our apps that will help the customers to be attracted to it. These attractive creative visual designs help the clients to attract more traffic towards their website which in return will also create a great profit.
We develop mobile app designs for various platforms including Android, iOS or even Windows. We can also develop customised mobile app design or mobile web design for our clients which can be accessed from a particular platform as per the instructions of our client. Our mobile-friendly web designs have vast compatibility.
We develop excellent mobile application design and also mobile website design as per the instructions of our clients.
We are always focusing on the satisfaction of our clients with our ever-ready maintenance and technical support.
We at thirstyDevs are glad to provide mobile application designs as per the instructions and commands of our customers.
We have cost and time effective methods available for our clients. We look after the tight deadlines and the prescribed budget.