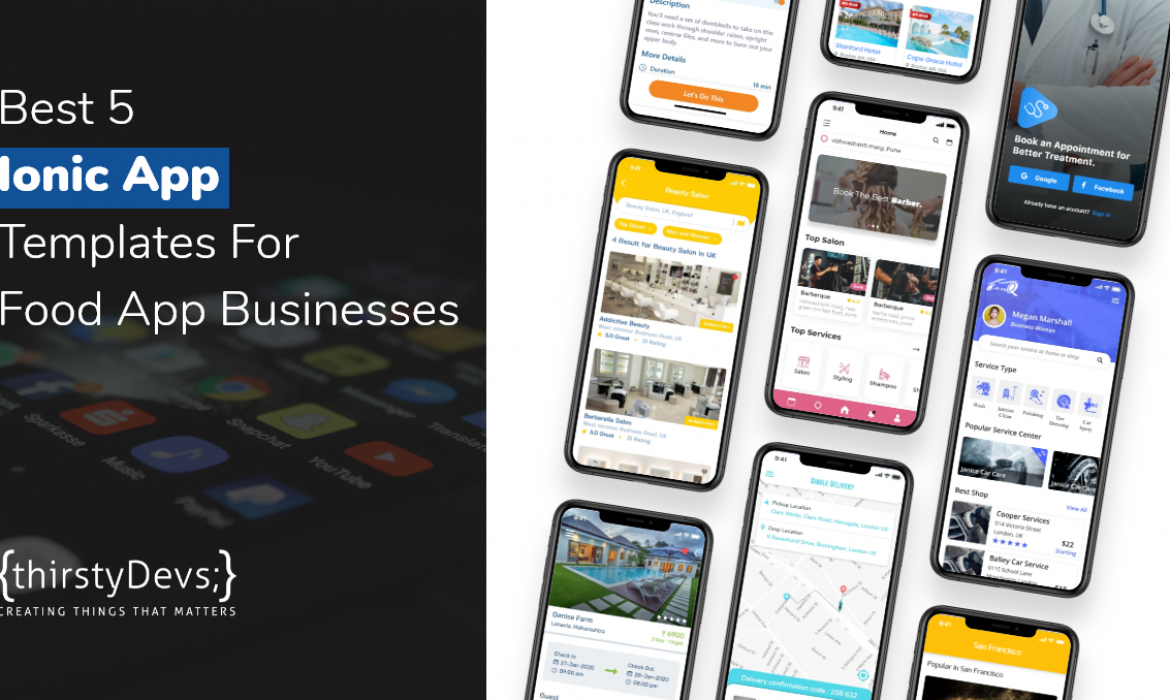 Introduction
When we first knew about Flipkart and Amazon, which delivered things at home that we ordered. We used to enjoy it back then. Do you remember what you ordered for the first time? Well, I ordered Chetan Bhagat's book from Flipkart. This amazed me back then. If you see now, various ordering apps have developed and are in the market for us. The most demanding application which is running in the market is food delivery apps. Food delivery applications like Zomato and Swiggy are so famously running with the best customer support. Why can't you build such an application for your business generating into the virtual platforms? It has maximum benefits like no other. If you are looking for such developed templates then let me mention some of the best Ionic developed templates where you simply buy it and start working for your newly set up business online.
Top 5 Ionic App Templates For A Food App
Grocery And Food Delivery Mobile Application
https://codecanyon.net/item/food-grocery-meat-delivery-mobile-app-with-admin-panel/26665979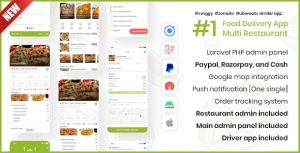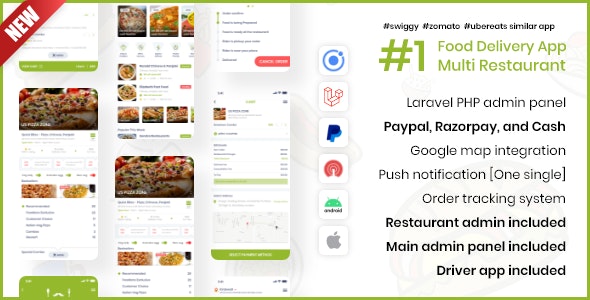 This food template provides you with the best source mentioned for the perfect food developing applications. It is ready to use a template for developing the food delivery application where you can start your own business.

It is developed considering the ios and android platforms with PHP admin panel. Considering the food delivery, they will pick up from the various restaurants, cafes, and other food outlets.

It is developed on the Ionic Platforms and is a hybrid application working on any devices.

It is available for checking and testing it. And it is available for the login and even for checking it live as a demo of the backend.

Price:

$89

It does not take charges from the user of this app. The buyer can buy it for one client and use it. You can launch it on any medium and market it the way you like.
Not only food but users can also order the grocery through this application.
Food Ordering Website And Food Delivery Boy App
https://codecanyon.net/item/single-restaurant-food-ordering-website-and-delivery-boy-app-with-admin-panel/28563040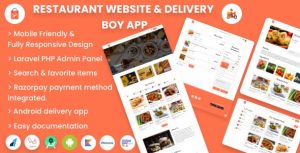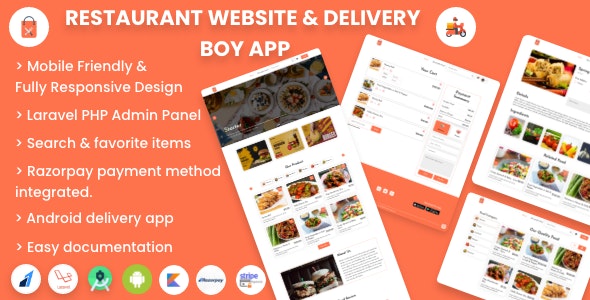 A food ordering website is used for ordering food from the website itself. There have been various food delivery applications where one can order food from their restaurants and get it to deliver at home. Whereas this app along with the food provides the registration of food delivery boy where one can also find the food delivery boy for their firm to serve services. This makes restaurant and cafe outlets people easy so one can find the relevant person for the delivery services of the food. There has been a drastic change when it comes to online businesses.

It is built on Larval code which has a software version of the PHP7.x. All the browsers are compatible to use for this application.

Price:

It has the price of $89

It has every feature and panels that includes admin and user panel. Also, it allows for every kind of demo for the users where one can test for the better working of application before it is launched.

It has availability for the premium frames for using it as a template and the support to the developers. This helps developers to think in a particular direction. Due to such innovative features, it can be easy for business owners to catch the attention of the users to use it.



Food Delivery App With Firebase Support
https://codecanyon.net/item/ionic-5-food-delivery-full-android-ios-admin-panel-pwa-app-with-firebase/26631318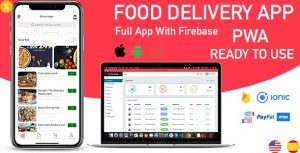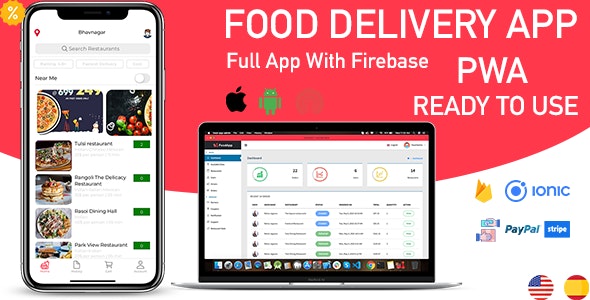 It is a template that supports three of the developing platforms; android, ios, and the admin WPA panel. It has the presence of a Software version of Ionic 3.6X where it is supported by the Cordova and Ionic. It has a support system of the files of Javascript, JS, CSS, HTML, and SAAS.

Price:

$39 for buyers where users get free usage.

You will find the list of the features when you go to the link of this platform so that business owners can easily know what features does that app consists of when it comes to buying the application for their business. It has a wide range of options for the users as well as it gives an opportunity for updating the logs for the same.

In this Ionic 5 food delivery application, it has the strong support of the firebase as a backend. This template provides the 3-way users for the users, restaurant app, and the delivery app. It has totally different panels when it comes to using this application template. This becomes an easy process for three of the different panels. It can be used for various locations and languages to support the multi-lingual that becomes an easy process to attract the various people around from anywhere. Multiple payment gateways are supported for the payment so it is accepted in every possible online way.
4 In 1 Solution Food Delivery App
https://codecanyon.net/item/ecommerce-solution-with-delivery-app-for-grocery-food-pharmacy-any-store-laravel-android-apps/26840547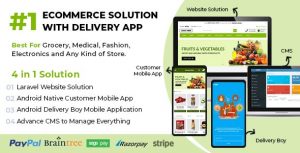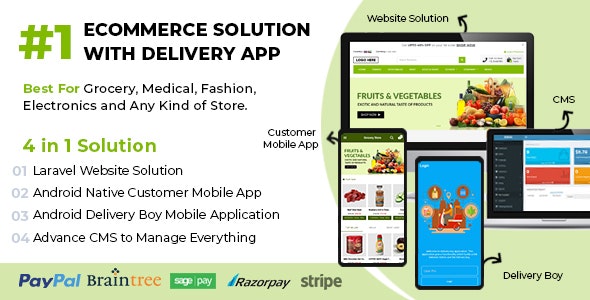 We are often looking for multi-purpose supported applications where we can get all the category things in one. This template is mostly benefited in the form of the interaction of the people towards your app as it has a serving of the various services for the people. This template is one of a kind.

Price:

$69 for the business owners and comes with the free users after you launch.

When it comes to grocery shopping, maximum people find it favorable to go shopping and some of them are too lazy for it. Well, this application will help in the grocery delivery as well where you just have to select down the items you need to purchase it. It is categorized accordingly that becomes an easy task to select what category of grocery you are looking for.

Along with grocery food delivery from the particular choice of food, the outlet is the main service provider with the reference of participation of the various food outlets. Getting delivered home medicines can be a major time-saving task to perform when you are patients. You just need to click and select and buy the medicines and other pharmaceutical items. The software version of the android 7.1x, 7.2x, 8.0, 8.1, and at last 9 are developing platforms available for this application.

It also supports the varied multi-platform of the languages (multi-lingual), payments, and location.
It has the availability of
larval website solutions

Customer mobile application for Native customers.

Availability for the delivery boy services seekers in this mobile application.

For the management purpose, it has the provision of the CMS services.
4 in 1 Solution Application (Different Platform of Development)
https://codecanyon.net/item/best-ecommerce-solution-with-delivery-app-for-grocery-food-pharmacy-any-stores-laravel-ionic5/26827707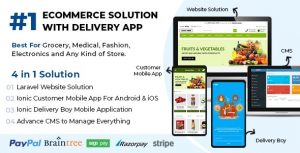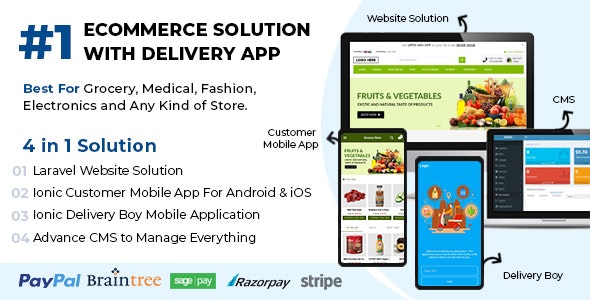 This application template is the same as the above but it has a slight difference in the programming development systems. Some of the developing sites are the same as above mentioning of the

Price:

$69 for the business owners with free use for the users

Larval for website solutions

The ionic platform for the customer's mobile applications

The ionic platform for providing the delivery boy for the particular restaurants and food outlets or other agencies similar to it.

Having a CMS management system for the same.
Talking about the software version of this application it has the availability and the provision of the:
PHP7x

MySQL 5.x

PHP 7.2x

Bootstrap-4

Larval

Ios-9.0, 10.0, 11, 12.

Android- 7.1, 7.2,8.0,8.1 and 9.0.

Ionic 3.6x
This template is the same as the above-mentioned application template which allows the users to choose from the various services categories included in the application. You can easily have a look when you see this template for a reference. If you are looking for generating business online then this is the best opportunity to grab and take over this application. For evolving the virtual platforms for your businesses, this is the best time to take it over. You can be the lead and the first one to take up this opportunity.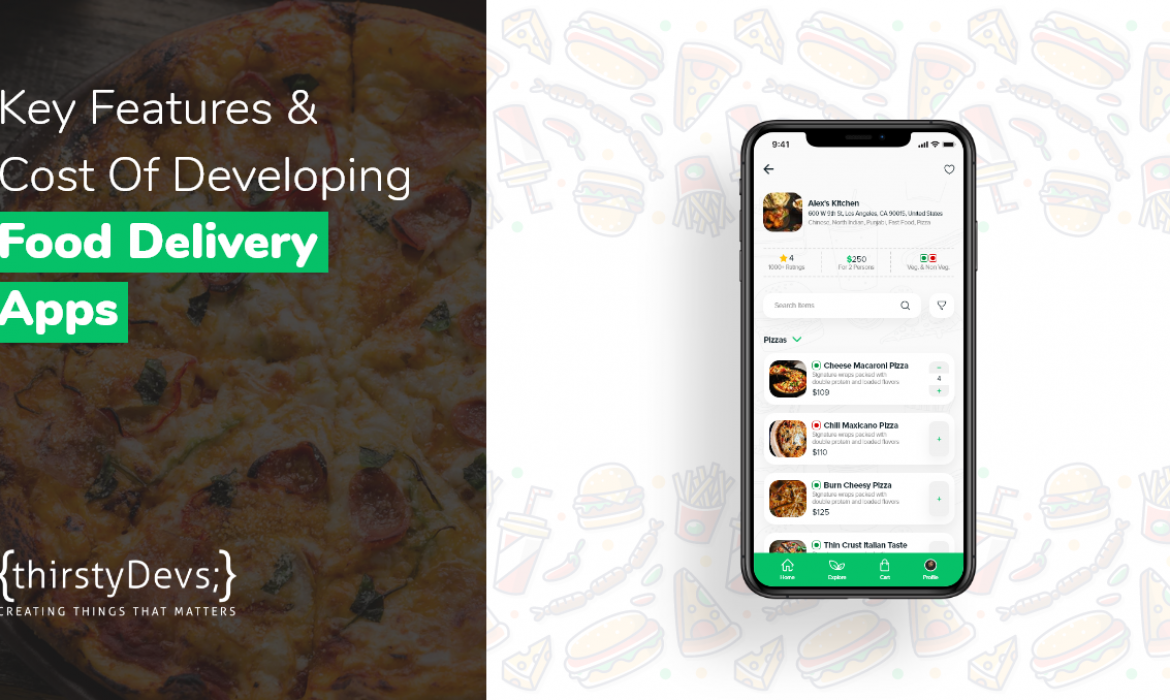 On-demand food delivery apps have emerged a lot in the market in no time. Have you ever wondered why only Zomato and Swiggy stand out from every other Food Delivery App? There are various reasons for this. We all might be aware of these food delivery apps and using it frequently for ordering food. I have never had a bad experience regarding food deliveries. They have gained trust right from the first when they were launched in the market. They have given us the fantabulous features to us by which ordering and delivering food becomes an easy process. Want to develop a similar app like it? Let's know the key features of this app and how does it help us in boosting up our business?
Key Features
We are very well versed in the features of the Zomato and Swiggy because we have been ordering frequently from it. We all have been using these food apps like no other. The features which are mentioned must be followed up to the mark.
Managing places
As it is the feature that is getting your food from your favorite restaurants it is difficult for them to manage places but these apps make sure that the places are managed for the delivery as well as getting it from restaurants. A business owner should take care of this app as it should not get fussy once it has started working.
Analyzing performance
The activity which is going on, it is important to monitor the performance level as it is all an online process from finding restaurants to ordering food and then delivering it at your place. It analyzes the whole performance and keeps a record of every activity and does not let you troubleshoot any problems.
Route and location record
One of the best features of this app is optimizing the route and location throughout. Users can easily track their delicious food coming their way with the help of GPS location. Users can always guide the driver in case of any misguidance during traveling. By tracking you can easily see how much time it will be there in front of you. Users can easily manage their time.
Order completion report
There is a whole report from finding restaurants to ordering food from one restaurant and delivering it to your place. It has a full record of the process where there is a
report that generated your order at last. Customers or a user can use it whenever they need it to see. It appears as a history in front of customers. Users can also know from where they ordered and what food was ordered previously.
Multi-language support
This app supports almost all the language as it has to appear almost in front of every corner of the world where languages differ. If they do not support multi-language then that is of no use as maximum people will not be able to operate it.
Availability of app
Many restaurants are open 24×7. Orders from this app will be there for you at any time of your order. Not only orders are accepted any time from it but the customer care services and the support from the team will always be at your preference and one can anytime file a complaint to this app and get the solution.
Multi-payment options
When you order food from this app and finally when you get your food at your door, there are various options available for the payment. The payment options are flexible and you get various options for the payment. Every payment option is available for the payment and at last, you can also order it for the cash on delivery.
Choices from various restaurants
Various restaurants are available for your choice where anyone can choose many restaurants as per your food preference. This option is given to you as maximum restaurants have registered their name through this app. This can be the best as you get a variety of choices for food to choose from.
Ratings and reviews
Ratings and reviews are important sources for any app to run where one can give their feedback through ratings and reviews. By reviewing with honest feedback one can know from where it is relevant to order food from. Ratings also help in the performance of the delivery guy's work. By rating them it can bring out the varied change in their work profile and their performance.
Cost
For such a huge platform to be built up, it needs to be managed and carried out properly to fulfill the needs of users as well as business owners. It is required to establish the proper working of every feature mentioned. Well, thirstyDevs Infotech takes care of everything when it comes to making a fantabulous app. The cost of this app is worth paying the price for. When you notice around the market, it doesn't have to have the best prices but thirstyDevs gives you the best price offers. Generally, it has the price starting from $10000 for this app but there is no harm in contacting us personally for the accurate detail for the same. Gathering information by getting in touch personally leads to various new ideas for making it one of the best apps.
Looking for the best business on the internet? A virtual platform gives you the best platform to showcase your business and to earn a huge amount of revenue out of it. It needs to be managed and synchronized properly. On the virtual platform, it is important to know the taste of an audience. To know what and which type of audience likes to get engaged in what concept. Apps like Zomato and Swiggy have made our lives easier as we do not have to run for the food parcels to take or look after the restaurants.
You can easily look for the restaurants and choose from the best you want. It is a huge platform to invest in as people are never going to hate ordering food from restaurants and cafes. They are always going to binge on food anytime and anywhere. This platform gives users the freedom of choosing and ordering food anytime and anywhere. Making an app like this will always have the gates of revenue open for you with a huge amount.