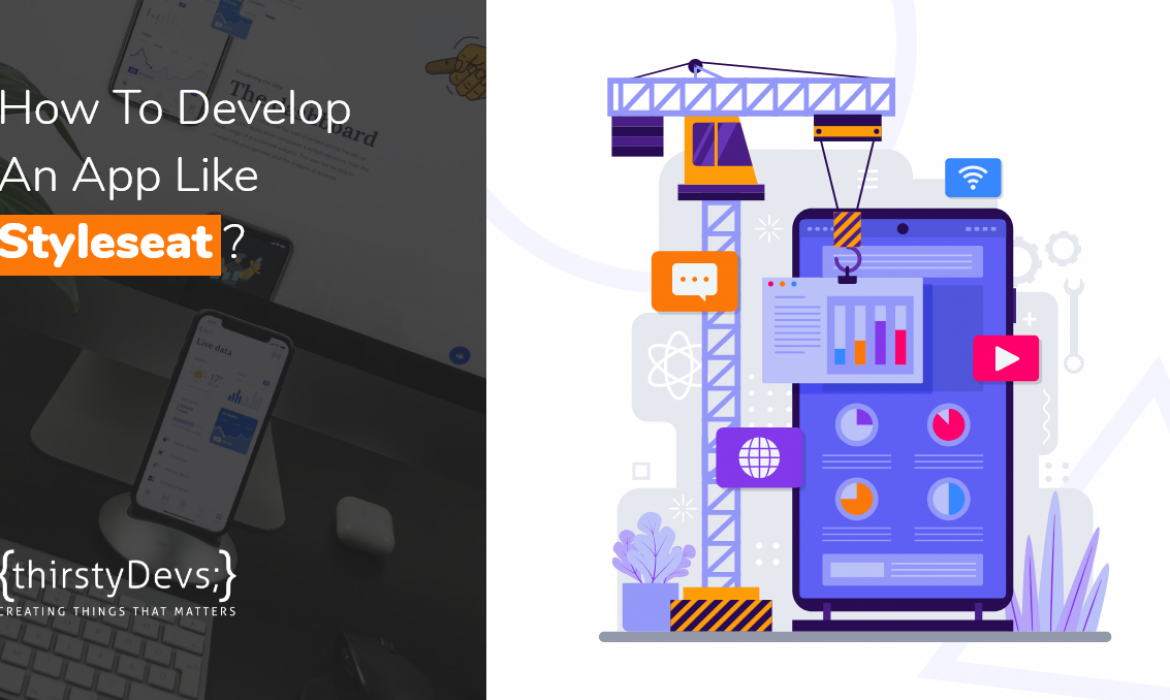 We all know how all on-demand app has its reputation and everyday increasing demand from people. We all know why is it increasing its demand. On the spot, services are provided by the app like Styleseat is something trendy as well as popular amongst the youth. We all tend to have a busy schedule, it is obvious that we all need everything within a tap from a mobile phone. On-demand apps have become our thing. We can easily approach services with no time and it saves time. We all know how it is beneficial to the customers and users. Do we know how is it important and beneficial to the business owners to invest in an app like Styleseat App? Well, this blog is about how to develop an effective app as well as how is it beneficial to business owners?
About Salon Booking App
If we talk about the beauty Salon Booking App in the market it is highly developed and it almost earns 4.3 trillion dollars revenue out of everything from the people. From this, we can state that beauty services are not just a symbol of luxury but have become a necessity amongst us. It has become important to attain and approach beauty and health centers. So think people, there is a huge scope of developing such an App as Styleseat and start your business and services if you haven't. People thrive to book their services to buy stylists, nail tech, massage and spa services, and all other beauty services.
Well, there are various benefits of being a business owner of this spectacular app. It is most popular amongst smartphone users where the ratio comes around 5 million people using smartphones approach on-demand apps in no time.
There are two sides to any app, for the clients and the business owners. Similarly, in-app-like Styleseat App or uber there are also two types of vision of an app. There are different types of panels to drive an app in a perfect app.
Client/User's Panel
Sign Up
Signing up is the first and the foremost step to register yourself as a customer and so you don't have to login every time you visit the site or app. A client or a user just have to fill up some credentials and then ready to use the app.
Mobile Catalog
When customer or user is on board with the app, all they will do is search for the best services provided by a company. They will go through the catalog that is uploaded and it will be easy for you to showcase your service.
Mobile Appointment Bookings
Mobile appointments make it easy for people to use it and book it. They don't have to look for other devices to book it, they can easily book it from their phone from anywhere.
Gallery
Styleseat App gallery is provided for the client so that they can see the work of the service providers and then book it accordingly. They can see the outcome of the particular service provided by the pictures.
You can add your photos and videos of your process of any treatment you are providing and giving to the people. This can help other people to have a reference for approaching you. Beauty treatments are something which people need a high level of trust to appoint you and thus it needs some outcome showing the effect of how and what type of treatments are carried out by you. Pictures and videos you upload ultimately help them.
Salon Details
Details of the salon including the types and names of the services they will provide will be included here in the details. It gives a brief introduction to the customers and can know who they are approaching.
Loyalty Pass And Rewards
There are various benefits given to the people for approaching the services frequently. As a reward, they are benefitted from the loyalty pass and rewards which is a motivation for them and a gesture by business owners.
Push Notifications
Push notifications are the best and foremost way of marketing. It gives users information related to further updates, cancellation, final booking, thank you for a message, and whatnot. Also, it is the best way for people to get engaged to stay in touch. It is one of the nicest strategies to apply for marketing.
Favorite List
There will be a section for the client to add it in the favorite list where one can add their most frequent services or in future services to be taken, they can just add it in the list of favorites. This helps in short-list the category of services they want to approach.
In-app Payment
Clients can directly pay from the app by their beneficiary linked accounts in the app itself. It will be an easy mode of payment where one does not have to do any long typical process. It will easy for clients as well as for the business owners to accept the payment.
Ratings
Ratings are the most important thing in the virtual platform where one sees the ratings before approaching your services. Rating is in the form of feedbacks which will be pretty visual to other people. This helps in boosting business as well.
Owner's Panel
Sign Up
Signing up as an owner makes your account where you can workout frequently by filling up the credentials and that's it you are all ready to use.
Booking Calendar
It helps in the form of appointment booking and other reminders if put up for some important and priority thing. It makes your job an easy process and thus it makes you look organized and perfect. The calendar makes it easy to use and helps you in not forgetting priorities which you have to look forward to.
Maintaining Gallery
Maintaining the gallery is all about posting videos and photos of the work you carry forward. This helps people in having reference to your work and you can easily showcase your service to them.
There are other various features in the owner's panel where one can guide themselves by tracking the service provider.

Maintaining the price list and uploading it for clients to have a reference.

Showcasing good feedbacks so that people focus on that and carry on with service.

Can declare the special offers and packages to your valuable clients and it is needed to be updated as they can stick to you for the various cases.

There are various other features that can develop the business of yours and thus it can boost up to the best marketing and revenue collection out of your business.
Pricings
Pricings for such Styleseat apps play a crucial role for business owners to develop and take a hike in their business which increases the value of the market ultimately.
This Styleseat app is worth the pay where you can get various outcomes from your services and not only that but it also provides you an easy way to manage everything. The pricings almost start with the $10000 where one can have the basic affirm it for completing the app. This is not just price, but also a lifetime investment in your business. It gives a different level of promotion to develop your business.
thirstyDevs is one such right palace for you to rely upon your business and market. It gives you the best-developed application where you can see your vision getting to you. It is something that every category of people; start-up business, dapper, and a well-set business can join this platform to build theirs. It is one of the greatest opportunities to grab on it.