We have almost heard about how beauty apps have developed and taken place in the digital world. It Is thereby important to know something more about it. Beauty and health are a core part of our daily routine and thus it needs to be focused on properly-getting proper services to manage by Beauty Service App. These apps are not only just apps but a collection of data of your involvement in booking online beauty services. It has every record of viewing to payment procedure. Thus it becomes an important point to know more about it. You ultimately get a hike on your app when you let flourish the On-Demand App by using it with creativity and other services. Let us all go deep into the detailed modesty of these apps. 
When it is about Beauty Service Apps, what comes to mind is Urban clap or Grubhub. It is renowned because of its consistency and provision of awesome services which encourages people to approach often. This is because there is a great app creator behind it which has managed every detail tediously. It is the management and the efforts which are showcasing the maximum people to stretch towards them. 
Beauty And Wellness Online Market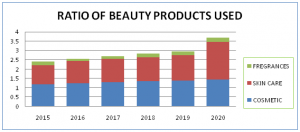 The Above Graph Is One Of The Surveys From the Last 5 Years Of Beauty And Wellness Products And Services Used. 
By this, we can easily state that the ratio of usage of beauty products is increasing and not decreasing. Thus it is not a sign of luxury now but a sign of necessity. Everybody wants to look good and thus it tries to adapt and rejuvenate them by approaching such services. The power of On-Demand Beauty Services is increasing and with it, it becomes an important part of introducing such Beauty Service Apps. It is going to benefit and not be harmed. 
When we talk about some beauty on-demand services, there are a set of things that are necessary to include and to be followed. Those are the level of features you are adding and the survey of easy usage for the people. The ease of usage is important as everything depends on it. Once people find to use Online Services difficult it is uninstalled in no time.   
About Beauty Service App
Secondly, the services you are providing are important, they can book beauty services online from your app but what happens if you don't provide services well? You are reviewed down. Reviews are important to people when it comes to beauty and wellness treatments. Nobody wants to risk it. They take care that maximum people like it and use it. 
Beauty Service Apps should include every service related to health, beauty, and wellness. People should get varied options in one app itself, otherwise, it's of no use to get installed on their mobile phone. They will ultimately find it of no use if they want some particular services and it isn't available to you. Build your app as strong as possible to keep engaged with the app. The ratio of people using it and the review ratio should always be positive. Only then you can represent a unique app of beauty services. There has to be competition but you have to ace it by following some rules and tactics. 
Not only the services and provision of services but the visual representation of the app is also playing a crucial role in keeping people engaged. As it is said, "the first impression is the last impression" is the core of human nature. When a customer will first view your app by opening it, the eyes will be directly on the layout, colors, and features. It has to be eye-catching. If not, sorry your app is uninstalled. It is ultimately the management of the technology stack.  
Important Technology Stack 
Push notifications

SMS/ email and phone verification.

Data management

Payment acceptance

Strong programming

The installed operating systems

Database

Cloud storage

Time analytics 
As we have detailed information about the data and the real stats value, it is now time for the real answer to your keen and curious question. For developing such a one-demand beauty app, what is the price of creating such an app? Will it be costly or cost-effective? Let's get to the conclusion, imagining you want to have a Beauty Service Apps. Initially, it will be a great competition to some of the renowned apps. To get there and even further it is important to invest in the roots of such apps and thus thirstyDevs provides you with the best price and services. Just blindfolded it go for it. 
The prices start from the USD 1499/- which are some of the basic prices and thus further updates according to the type and varied software. It is a price worth paying for. Let us help you to get you the best software possible for you. We take care of every possible way to enhance the best and unique way.  
The only thing which you can showcase the uniqueness is something "creative". Let us draw that creativity and let people wander around your app.
Let me give you some valuable information which you might be amazed at. Have you ever thought of earning by owning an app? No, right? Allow us to explain that. 
Apart from your fixed income from the customers paying to you by choosing online beauty services, you can also earn from that app itself by conducting various engagement activities. These might now interest you. 
Commission Based

 
As your app is a Beauty Service App, there will be a lot of expert beauticians who will be part of your app, and you kind of providing them with a platform, you can always ask for a rental part from them and earn from it. This is straight and extra penny earnings. 
Sponsorships

 
By conducting sponsorship programs, one can sponsor their brand through your app and you can always ask for money in return. By this, they even get an opportunity to showcase their brand. It becomes a very good platform and more people try to engage. 
Advertising

 
We often find advertisements popping on your phone in between running any apps or any videos. Didn't you ever wonder what the concern of those is? From these advertisements, popping has paid the app. You can always ask brands to collaborate with you for their advertisements and welcome your extra revenue. 
FAQ

 
What Is The Purpose Of The Beauty Service App? 
Beauty Service Apps are the symbol of modernism where not only women but men are also barging in it into the beauty treatments. It helps you to get your work easier by just booking it online. It also helps in managing the schedule of both. Hence it becomes hassle-free and an easy process to carry forward. 
Is Beauty Service Apps Beneficial?
Yes, Beauty Service Apps are very much beneficial. You not only get your fixed clients but any random clients can book your services. Not only this but you can earn from the app by carrying forward many engagement and collaboration programs with other brands as mentioned above. 
How Beauty App Is Beneficial To Customers?
It is very beneficial to customers as they get specific options to choose from for their services without getting confused. They can easily schedule the timings which save time. With these, there are many benefits that you experience by using it. It is a must-try.