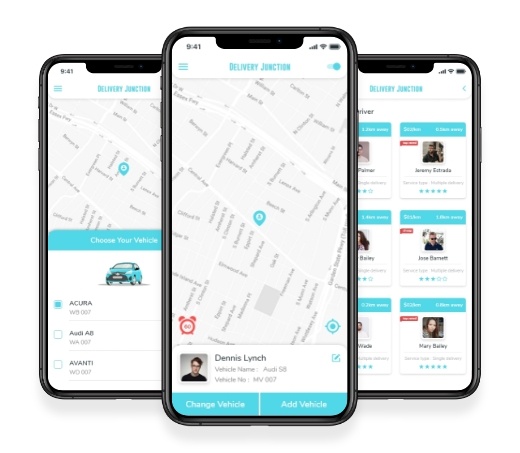 Enhance performance & reduce your operational costs with our Ready-to-Deploy Transport and Logistics App.
thirstyDevs Infotech the leading provider of web, mobile, and software solutions. We cover various industries including the Transportation and Automobile Industry. We develop transport and logistics apps and provide the best Software Solutions.
The automobile industry showed much growth in past years and is one of the fastest-growing industries. It needs Digitization for better management. In this competition, leverage our services of Transport and Logistic app development to digitize your business and stay ahead.
The transport and Logistics industries also showed robust CAGR growth in past years. With opportunities, there increases competition. You can compete better with us, for we are professional transportation app developers and we provide complete transport and logistics software solutions.
People realizing the importance of transport and logistics software solutions
The transportation and Automobile Industry is under Reinvention and it is the best time to digitize it, with our services as transport logistics apps. It will increase your reach to your customers and reduce the cost of your operations.
We are amongst top transportation logistics software companies. We provide software for logistics companies and help them to track their supply chain easily.
Our skilled transportation app designers are efficient to develop transport and logistics apps, which can potentially scale up your business and increase transparency so that your customers have more trust in you.
Benefits of Digitalization with Us:
Cost-Effective

: Get more from your business by paying less, expand your business to the full potential using our logistic app development services.
Automated Process

: Run the entire management process of your business on automation, with more efficiency. We as a professional transportation app developer know how to make it happen on your smartphone.
Track your Business

: Track your business on your device. Go paperless with our transport and logistics software solutions.
Manage All Branches

: Monitor all your branches on your Laptop and manage it with clicks. We design easy-to-use software for logistics companies.
Easy Data Sharing

: Using Cloud Storage, you can access your data, overall branches, at any time and anywhere. The transport and logistics apps we make are secure and user friendly.
Organize your chain: The logistics sector is very fragmented. Being amongst professionalized transportation logistics software companies, we help you to organize it on one platform.


Get more visible: Digitalization brings more visibility to your business and ensures your customer's trust. Leverage our logistic app development services to get more reach.


Impact on Supply Chain

: We are a specialized transportation app designer and we assist you in the digitization of your business which positively impacts your supply chain.
Dealer Management: We are a transportation software company, which supports you to manage your dealers easily with our software on your laptop or smartphone.
Fleet Management: Check on your fleet and track your vehicle online, easily on your smartphone. The user-friendly interface of our transport and logistics app will aid you in every way.
Shipping and Delivery: Manage your shipping and delivery services in real-time. Get inclusive access to your fleet, delivery boys, orders, and shipping status.
Logistics and Inventory: Our software comes with predefined categories to organize your data. You can customize it as well, as per your inventory.
Supply Chain: Our transport and logistics app provides you better control over the management of your production, demand and supply.
Data Warehousing: Organize, Regulate and Secure your data easily with large data warehouses of thirstyDevs Infotech.
Automobile Manufacturing: Our software solutions provide you an interface to easily supervise your automobile manufacturing unit and improve the process.
User Interaction: Your users get a bilateral platform with you to interact, place orders and give feedback.
Location Tracking: Track the location of your vehicle and fleet on the real-time interactive map.