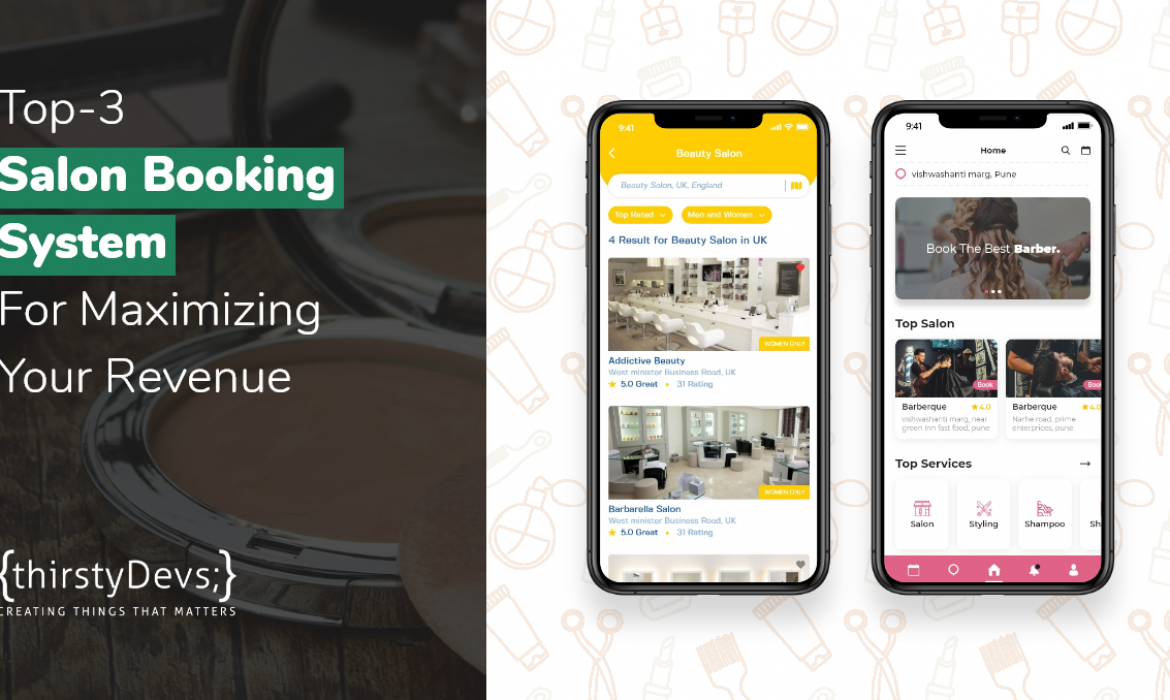 As in the virtual world, it is important that the app you have is managed professionally in proper hands. It is important that it works systematically. There are various systems, especially for Salon Appointment Booking systems or software. It is the system that helps business owners manage the transactions and services they provide. Systematically all the management is taken care of by the Salon Booking System.
All you have to do is install this software and start using it for your Salon Appointment Book App. It becomes way easier to work with such a system as it saves your time and manages the whole process from booking appointments to provide services on scheduled time. It is a big relief for business owners to manage the system.
Let's see which top-3 online Salon Booking System for you.
Simply Book. Me
Simply book is one of the profound and mostly used by the business owners for their beauty services. It has its own various benefits in which it provides the best system management.
Customers can simply book appointments online.

Online booking for the Spa and Salon

is available every time.

It manages the appointments and it does not delay in time. It maintains the accuracy of the appointments & it takes care of the overcrowding of people appointing and manages time. Also, it has some unique features if the bookings are full and do not want to take more customers, you can always show customers that it is full by marking it on the calendar. By this people will have an idea of scheduling their appointments.

Business owners are provided with email notifications for some important statements and activities.

There is a reminder option that will urge you to remind you of the task that you are supposed to finish or schedule for the next appointment.

If your

Beauty Salon Services

hold a large amount of staff, it manages the multiple staff as they all will belong from the different niche of providing services. It becomes a little hectic to manage it manually.
Various testimonials on this app state that it is the perfect app for the business owners owning beauty spa and salon service providers. It manages within no time and it lets you work in an efficient manner and as planned.
Baxus
Baxus believes in making it easy to manage the service provided by the beauty salons. There are some features that will make you approach this system.
The Baxus beauty salon provides the best beauty Salon Booking System.

It deeply understands your business and justifies clearly in order to adapt the fully online beauty and spa business equipped by them. Utter responsibility is taken care of by them for the business owner's benefits.

It keeps business owners motivating with the target and makes sure that you finish it with no time delay. This feature is beneficial as we tend to forget the scheduled plan. It has quite strong with the reminder systems

You can connect it to any device and work anywhere and you can always take it with you wherever you go.

Provides the 24×7 helpline and customer service at its best. It is available all the time in case of your concerns and queries.

Believing to adapt the Baxus in your beauty services will be one of the greatest things to invest in. It is the most flexible and user-friendly.
Simple Spa
The name itself suggests "simple" but we all know how difficult it is to handle the business of beauty services in day-to-day life. Well, this task is simplified with the help of Simple Spa.
It includes online booking anytime and any day. Not only this is simplified to just online booking, but it also provides the option for "special booking" which states that if you want multiple services along with multiple people, but you can also always go under the special booking and book it.

It manages the appointments in the best way, you can always take multiple appointments for your multiple other services to be approached.

It keeps your app up to date. And it believes in updating timely with data retention of users as well as business owners.

The products which generally beauty salon and spa keep for their users are sold. It keeps the record of the product sold and to be issued for the stock. This management gets easier and lighter to manage for the business owners. They can have a simplified record of revenue used and invested.

Packaging management for complimenting loyal clients and customers. This will motivate you to always use your services and it is a pleasant gesture to them. This management is provided by the Simple Spa.

The payment terms are flexible and it also focuses on the credit card processing for the payment from the customers.

It has records of the daily reports in-built. It prepares the daily reports reported so that by the end of the day you can have the proper records and reports to look at. This saves the maximum time as well as the admin can come to know for the next schedule.
Tips for Simple Spa
As you will own the website, there are various different types of website tools provided by Simple Spa for better and innovative use. Website tools will help to enhance and grow the website in a unique way possible.

The service provided by you will have a great effect before and after the services attempted. Photos and videos are important to be placed which remarks on the quality of work you are providing it. This will be displayed as a reference in front of customers and can use it by just going through it.

Revenue management is an important task to handle it. It manages the revenues in terms of receiving and paying back. As you have a beauty salon, you tend to invest in some equipment. Revenue spent and earned will be managed by the Simple Spa itself. It is a big fuss to get cleared.

Simple Spa believes in the security of an account that you own as an owner. It has 2-way factor authentication for better security and privacy.

Unique and well-designed dashboards will be available for you for the betterment of further work and to show the uniqueness.