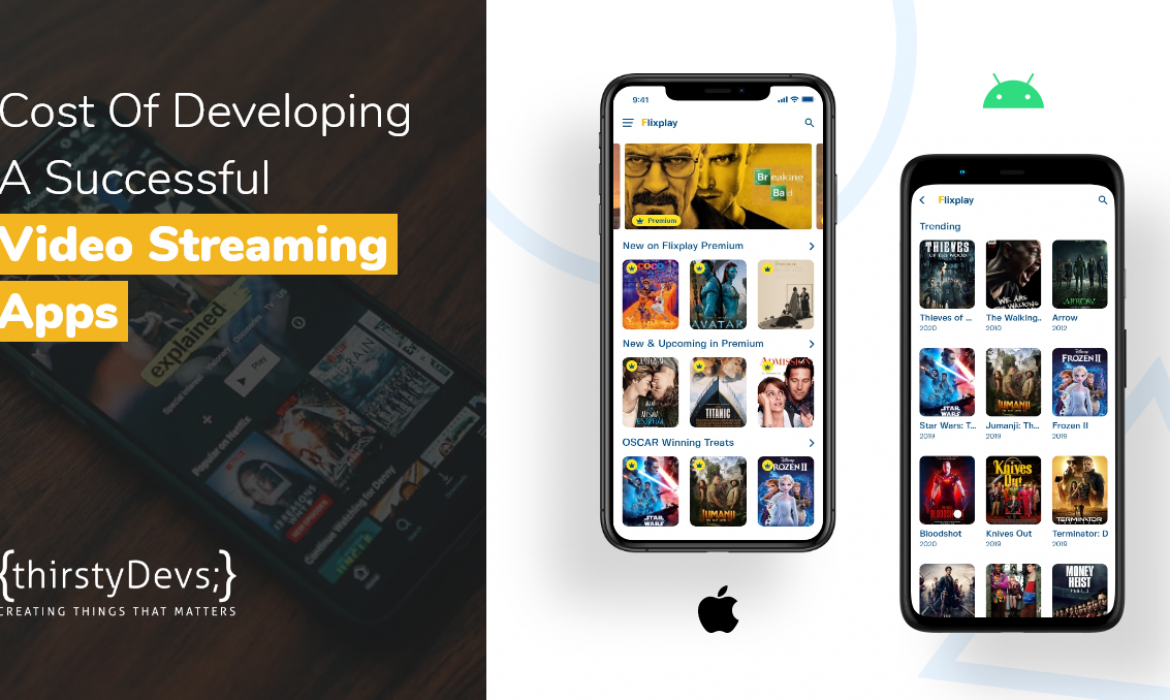 Video streaming apps are very popular nowadays among youngsters and people belonging to different age groups. We see a bunch of video streaming apps launching in the market day by day. The trend of streaming videos or web series on a particular platform is kind of new and very exciting in the market.
The trend of different types of video streaming platforms will provide you with a whole different level of success and will increase your profits. You can easily rely on these video streaming platforms for entertainment purposes also. In today's world entertainment is one of the most basic requirements of a person's life. Video streaming apps like Netflix, Amazon Prime, Zee5 and many others are a part of entertainment in our life. It is the most exciting turn in the entertainment business.
Video streaming mobile app like Amazon prime is always coming out with different types of web series which attract a lot of audience on to their platform. Amazon Prime has been doing wonders since its launch.
The audiences are always eager to look for something exciting and interesting to watch. Amazon prime statistics are really good. This video streaming mobile app has created an immense audience base and is continuously attracting more and more audience towards their streaming platform.
Statistics Of Amazon Prime
Amazon prime has attracted a lot of audience through different types of shows that they are providing on their platforms. These shows are entertaining, interesting and also very engaging to look at. If we look through the statistics of Amazon prime we will find a huge turnover and profits.
Amazon Prime currently has more than 200 million unique United States visitors on the video streaming platform per month. It had made around 280.5 billion US dollars in revenue in the year 2019.
Here are some statistics of Amazon prime that will highly impress you-
There are more than 150 million users of Amazon prime worldwide as of 2019.


There are more than 112 million people who have subscribed to Amazon prime alone in the United States region.

The average amount spent by the Amazon prime members in the United States is 1400 USD dollars as of 2019.
Video Streaming Platforms
The main essence of these video streaming platforms is the availability of different types of content on the same platform. Today's audiences prefer a large number of choices in one place so that they can stream according to their interest. There is a large variety of content available at these video streaming platforms. It is safe to say that-
Higher the quality of content, the more audience you will attract.
The purpose of developing different video streaming platforms is to give the choice of selecting personalized videos to the audience. You do not push your content to the audience, you attract the audience to your content!
There are several benefits of video streaming platforms over your local traditional cable TV.
The video streaming platforms give the audience flexibility of choosing their desired time and of course place of watching their favourite series.

The audience has the right to choose. They can choose whatever content they like to stream.

You can like, unlike, comment and also review your content. Which can express your views about the content on the platform.

You can track your payment status.

Some video streaming platforms give the facility of downloading the web series so that the customer can view it offline if they want.

You can pause, rewind, fast forward your content at any given point which is not possible when you are watching your series on a traditional TV cable.

Video streaming platforms are also compatible with every different type of digital device.
The whole point of video streaming platforms is to give the audience, facility to watch their selected videos anytime and anywhere.
How Do These Platforms Make Revenue?
The most important thing about developing a video streaming app is to look through the list of revenue making features of it. The application can make revenue via different types of features and options.
Subscriptions
Some of the video streaming apps are popular because of their subscription plans. Many of the apps are giving out monthly subscriptions, 6-month subscriptions or even yearly subscriptions to their customers. You can easily opt for any of the given criteria and accept what is best for you. The main part of revenue for the video streaming platforms is the subscriptions.
Purchase Per Content
You can also occupy the concept of purchase per content, that is you can allow your customers to purchase only the content that they want to watch. In this type of criteria, you can earn a huge amount of money in one go because when a movie goes in a trend many of the customers would like to purchase it and that can make good revenue. It will also allow your customers to have that flexibility and freedom of choice.
Third-Party Ads
You can run third-party advertisements on your video streaming platforms and that will be a great start for you to earn a big amount of revenue with a very small investment. These third-party advertisements are a great way to earn the perfect amount of revenue even if your application is not doing so well in the market. The third-party advertisements are always helpful in owning some extra amount of money which can cover your app development cost.
Features Of The Best Video Streaming App
There is a ton of video streaming platforms available all over the world but what makes the best video streaming app is the availability of different types of features!
Unique Accounts
The possibility that your customer wants a simplified registration procedure while using your video streaming app is hundred per cent favorable. There can be a portal through which the customers would be able to sign up on the application through any of their social media. This unique account will help them to keep track of their content.
Real-Time Video Streaming
There should be a portal through which the customers are able to stream live shows with minimal internet usage. You can develop a platform through which your customers are able to see live cricket matches, volleyball matches, football matches and also many other reality shows in real-time. Many of the customers want to have the freedom to stream their favorite topic in a real-time scenario.
Payment Options
In this new era of digitization, it is very important to have multiple payment gateway options for your customers. You have to understand the diversity of customers that are coming your way. That you need to develop a secure transaction model for your customers and protect their data security and privacy. Which you can integrate Google pay, Paytm, debit card, credit card and direct bank transfer facilities for your customers.
Multiple Languages
We are living in a time of diversity and you shall also integrate multiple language support for your customers. This will act as a bonus feature for a video streaming app. This feature will also attract a lot of audience to your application. There are different types of people available in the world today and when it comes to real-time events some of the people like to watch them in their local language.
Playlist
Make sure that you transit the procedure of adding content in the playlist for your customers. You can develop a portal through which your customers will be able to make their own playlist of their favorite web series. This will help them to customize the application according to their tastes and preferences.
Search Option
You have to make sure that your application is giving support to the customers to search for their favorite content. The search option is a very vital option for people who are using your application. Make sure that you make your application very user friendly. The searches option will help your customers to customize the application and look for their favorite content.
User Engagement
You have to have the option through which your customers can engage with other users in the platform. Make sure that you develop like, unlike, comment options on your video streaming platform. This will not only help your customers to choose the better content but also it will help them to engage with other users using the same platform.
Push Notifications
The feature of push notification is all about increasing more and more people to use your platform. The push notification feature will inform your customers about the different types of trends that are going through in the world of entertainment. You can send push notifications to the customers when there are discount offers on your application or on the arrival of the latest shows.
Offline Saving
Getting internet everywhere is not possible so you have to develop a procedure through which your customers will be able to download their favorite shows offline and can view it at any time possible. This feature will be very helpful for different customers.
Video App Development Cost
The proper app for streaming videos can be developed with a strong team of individuals. You can hire our services if you want to build an effective and highly user-friendly video streaming application.
thirstyDevs Infotech has the proper team of project managers and application developers who will help you to manage their application according to your preferences. The video app development cost cannot be calculated perfectly but it will definitely bring you fruitful results. Make sure that you hire us to avail the best application services!