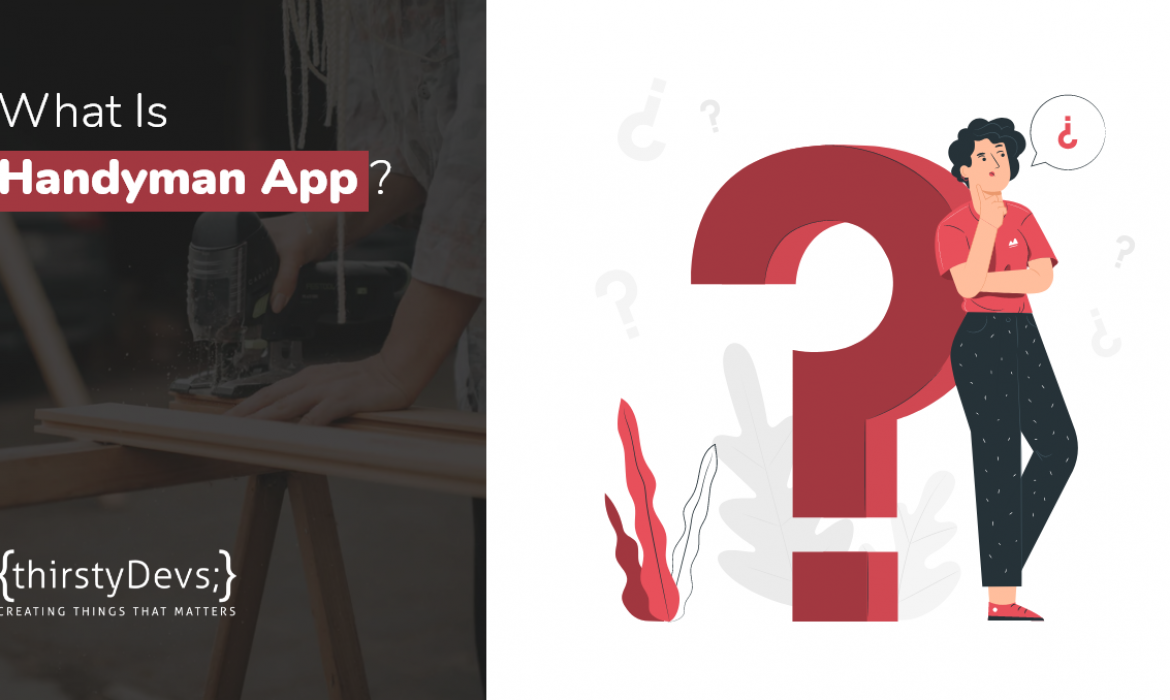 Now, we all have to accept how hectic and chaotic life has become. We have to spare time for each and everything that we do here. It may be anything from buying groceries to call a plumber. Everybody here cannot afford high-class systems in their houses and look after it. What is the solution to it? Is there even any solution? As it is said "necessity is the mother of invention" Handyman App, similarly we have the core necessity of such a handy app that provides us with all these small words that we cannot spare our time for. Those things are equally important but we do not have much time to fix it.
How Handyman App Helps
The Handyman App has got you covered. This app helps people in getting their work done. It has various benefits due to its features and services. It resolves all the work that you left behind you didn't have time for. This app is renowned for its services and time management. It works as our time manager and never lets us delay in time. There may be various types of apps available in the app store but it can only withstand when it is a timely service provider and user-friendly. Well, thirstyDevs takes care of everything while developing the best app for you. One of the important criteria to look upon the Handyman App is that it will provide all the services that you think of approaching it. All in one service provider app will be a Handyman Service App. When you are looking for any service sector handyman will be there for you.
About Handyman App
You might have seen the
Handyman Service Provider like Uber
which is renowned in its way. Why is it so renowned? It is renowned for its
services
and some of its
features
on the app. In today's era, it has become very essential to save time. So the
Handyman App Business
is one of the best sources to develop and grow within. You just have to stay consistent in providing service person whenever required. For the
Business of Handyman
to start you need a
Handyman Service App
to be developed where people can approach you. People need to know that you are the one who is providing service at its best.
There will be lots of specifications in the terms of services. Services will be differentiated according to their niche. From repairing the taps to self-care pampering session by a beautician, everything will be provided by the Handyman App within no time. It takes care that the customer is happy with the services they asked for. Handyman does not believe in the delay of time.
Now, when you try to call your serviceman for a particular work, they will take the maximum time and they might not be available every time you call them and your work can get delayed. Going and following the schedule never works here.
Thus, this app will help you to the best it can by providing services with no delay in time. This not only saves their time but will build trust in the customer's persecution because at last, all they need is a managed schedule. Lets us all look at what features this app carries and how it works.
There are various features that one can follow and dig into the app thereafter.
Log In
When you install the app, all you have to do is login filling up with the general credentials. This will help in having your account in the Handyman Service App and can operate it from that every time.
Location
You will have to set your location to track the service person available near you. If it is nearby your place they can easily come for providing the service. You will easily find the handyman near you.
Appointments
Customers can schedule appointments at their time preferences. This helps in both ways. Nobody has to wait for the delay in time. In case of any emergencies, one can always postpone or cancel the appointments. Now, this is something that will be an organized feature of this app.
Payment Terms
This is one of the important features of any app or any services. It sometimes becomes a little difficult to maintain the revenue record. This app makes it an easy process for you. Payment methods include all the payment modes where one can pay via any medium and process it. It is quite flexible to pay which makes it easy for the customers.
Gps/Tracking Location
This feature lets you track the service provider person where that person has reached and by what time he/she may arrive. In business owners, this panel is present so they can track the person and that service provider can track your way home. It makes work easy and the customer can assume that at what time the service person is going to arrive.
History
This panel will help customers to have a record of what services they asked for earlier. This helps in keeping a record of approaching them. Sometimes we tend to forget things but now the app has it all records. Not only customers but even the service provider has the record of services approached by an individual. It maintains the workflows and history of previous services provided.
Testimonials Or Reviews
At last, give a chance to your customers to review it right about your app. Due to their review, there will be other people who will be watching it and then approaching it to the Handyman App. This helps in boosting traffic for your app.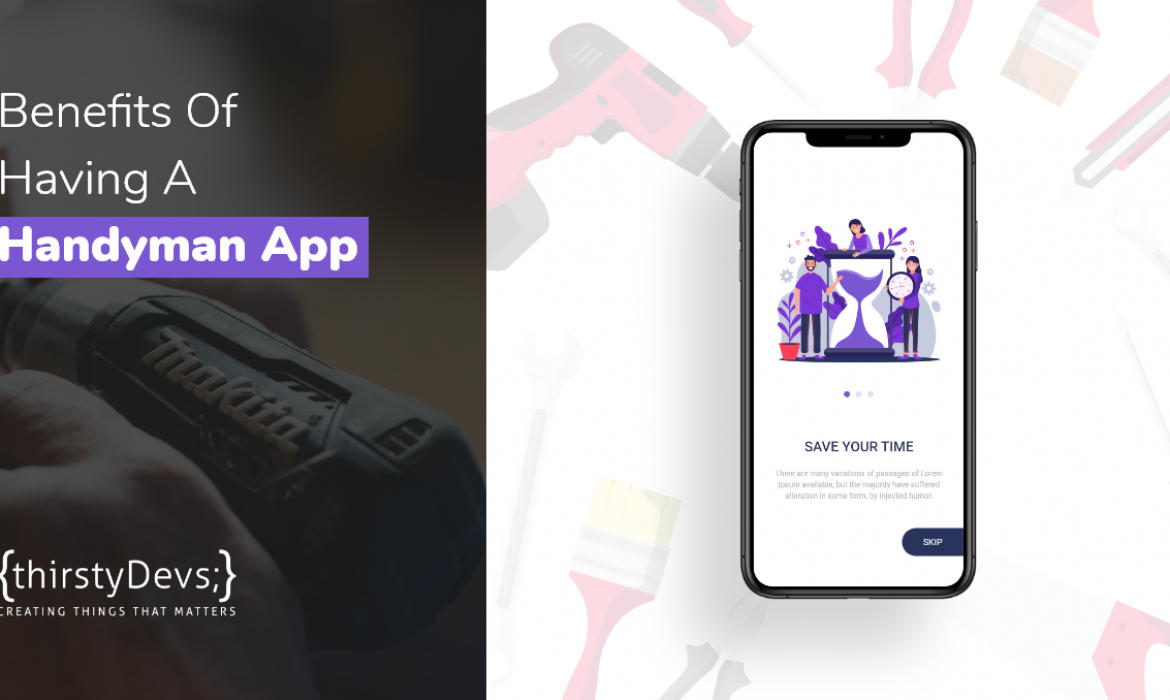 We all know how urgently we need to fix something which has disrupted. We are now where we need everything on an urgent basis. How to fix those needs? How to call somebody that urgently? Well, the Handyman App is a solution for people with a chaotic life. One app and many solutions are the keys to fix all the problems. It is a solution to all the problems in one. To own such an app as a business-focused work, is it worth investing? Various questions like this occur when it comes to starting up a business on a virtual platform. thirstyDevs believed to develop a stable virtual platform for you. It believes to have a stable business over a virtual platform.
We all know Handyman App like Uber which is the most demanding amongst the people. It is something which everybody is comfortable to use where everybody and anybody can use it with no other formalities. It is an app that is used in various fields by maximum people. Let us all know how this app is beneficial to the business owners of a Handyman App.
Benefits Of The Handyman App For The Business Owners
An on-demand app like uber has its many benefits where one can ask for the services you provide. It is important to know how this app is beneficial to business owners and in what ways.
Choosing Services
Consumers can have various options for choosing the services they want to approach, they can make choices for all their work for plumbers, cleaning, and every other work which should urgently be done and dusted.
In case of any emergency, if you need to fix anything you can directly approach them as they will be just a click away from your services. You can book your services anytime and thus can continue with your schedule with no time delay.
Approaching
When you approach anybody for the services who are just a click away, they are always on their foot to approach for the fulfillment of the services at your home itself. You don't have to run anywhere asking for the services.
Conserves Time
It ultimately saves consumers time and thus they approach you for their work and services now and then with no unwarranted efforts.
Up Grow Business
It ultimately allows business owners to grow their business not only in local areas but globally too with minimum investment.
Payment
Payment ways should be cleaner and yet trustworthy. It should be flexible in terms of accepting revenue. It allows people to choose their payment system in their ways and anybody can approach your service.
Booking
It will have the option of a flexible booking system where you schedule your booking of the present as well as the future. This helps people to schedule their work and carry on with their schedule further. It is one of the attractive features to enhance people over approaching for your app.
Interaction
Business owners get to connect directly with the targeted audience who is seeking the services further. This helps in reviewing their feedbacks and solving them in case of any issues.
Branding
These virtual platforms keep your brand relevant in the terms of reputations and branding.
There are various ways why you need to choose a virtual platform for your business and you can get to connect with various other people by engaging with them. It needs minimum investment with much higher profit.
Apart from revenue that you are earning from the services you provide, you can also earn extra revenue by branding it socially with the paid promotions, advertisements, and keeping up with ongoing trends. You can always ask for other content creators to promote your brand in its best way. It ultimately makes an easy process to handle a virtual business like this.
Conclusion
If you are looking for the best Handyman App like Uber you are in right place. thirstyDevs provides well developed such products which help in enhancing your business in no time. Be the one who stands unique in the world of business. Approaching the virtual platform is an easy way to get people's attention and yet it makes it simpler to choose it just from their mobile phone.
FAQ
Is developing an app better than developing a website?
Yes, a mobile app for the app like uber saves a lot of time than a usual website. The website cannot be reached out to everyone but an app can reach the maximum people for the service approach. It is worth investing in an app than a website.
What are the main benefits of the app owner?
The foremost benefit of the business owners is that this app can bring to them the maximum engagement they want. Apart from the service they provide, you can also earn from various promotional activities and branding. You can develop this business in no time locally and globally.