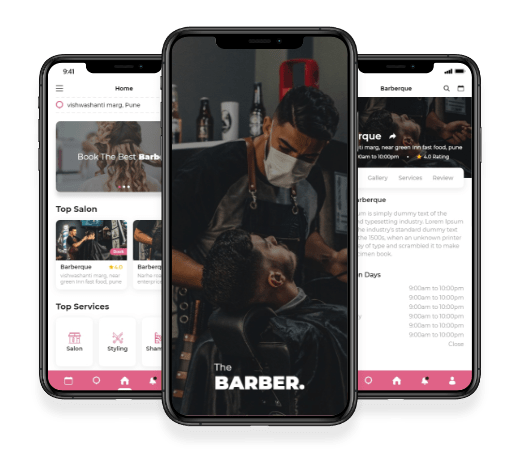 Explore our core Media and Entertainment Industry & Solutions that are focused from production till distribution.
With our advanced Technological implications, we develop Media and Entertainment mobile apps that understand the core needs of its user.
Apps we make for the Media and Entertainment Industry are user-friendly because we believe in the first impression.
Studies show that 94% of the first impressions are based on the design of mobile apps. Customers love design that supports them to stay with the app, and our media and entertainment solutions take good care of it.
Sensing the growth in Media and Entertainment industry we make mobile apps that are-
With IT Solutions for Media and Entertainment people can enjoy anything via mobile apps, that is why Media and Entertainment Industry has become 3rd most popular segment in the App store and there are several other reasons why the popularity of mobile apps is increasing day by day like-
With a great response rate, your users will never have to wait while watching their favorite show, playing games, booking tickets etc.
✔ Less Storage Capabilities
Apps with less storage supports the performance and speed of a mobile phone. It also leaves plenty of free space for users, which leaves them untroubled about the app.
Less internet consumption makes an application dearer to its users, and which in turn collects more preference over other media and entertainment apps.
thirstyDevs Infotech make mobile apps that allow you to play games, book tickets for live shows and concerts from anywhere, fast live streaming of your favorite sports, latest updates and much more.
Our apps for Media and Entertainment Industry remove all the barricades between you and your customers and find solutions to make communication much easier and efficient.
We make it easy for you and your friends to make collective decisions with screen sharing apps, whether it's shopping, working on a project, playing games, live streaming, or watching your favorite movies on mobile phones.

Our on-demand web portals are made quite secured and do not allow any kind of Hot-Linking and work on a single concept – click and share
We have Media and EntertainmentSolutions for people who increase your expenses by stealing assets from your website via Hot-linking. We will make sure that you will never fall into those traps and lose your money.
Our on-demand web portals for the Media and Entertainment Industry will secure you from these Hot-linkers.
✔ UNLEASH YOUR BRAND POWER:
Our prime goal is to make you unleash your brand power and become exceptional in the Media and entertainment Industry.
We make it a top priority for making applications compatible across all the media platforms so that your business conquers a large-scale user base.
By making them compatible in all media platforms, we aid people reach it easily, therefore increasing its engagement.
With beautiful UI and UX, hack your customer's attention and build lifetime trust with them. This will increase your brand value.
If you want to stand out in the Media and Entertainment industry by making Lucrative and High-quality apps, we are definitely an asset for your spiral.

Our philosophy starts and ends at client-first approach. Be it understanding your business requirements to choosing the right technologies, we work collectively towards a common goal.
We play focused and planned with our best kept values of quality, commitment and perseverance. Our sole mission is to provide solutions that bring value and profitability in your business.