Healthcare Mobile App Development Services
Digital Solutions for Healthcare Industry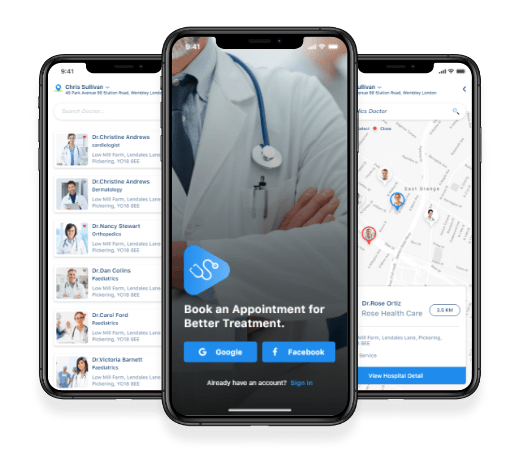 We help to build Healthcare Mobile App Development Services in Aiding Patients more effectively through our impeccable Softwares and Mobile apps.
The Healthcare Industry is estimated to reach $136.8 billion by 2021 from $58.8 billion in one year. With this steeply growing graph the Healthcare Industry is also facing various problems like, hectic time-consuming processes of form filling, long never-ending lines of patients, inability to connect remotely with patients, unnecessary bills etc.
To find solutions to these problems, Healthcare industries are adopting new ways to interact with patients so that they can save their time and money, and also provide value to their customers.
In order to do that, they are adopting Healthcare Mobile app development services. With increased use of digital devices, people nowadays look for more remote solutions for their problems.
People realizing the importance of Healthcare Mobile App Development Services
Health and fitness remain a top priority for many young people out there. 15% of 18 to 29 year olds have Health and Fitness apps already installed in their phones and 59% smartphone users collect health associated information on their mobile. Health and Fitness softwares are becoming a part of day to day life for many people.
These Healthcare mobile app development services have revolutionized the approach of people looking for medical solutions.
Healthcare IT solutions via Medical Software and Medical mobile app development are becoming an asset for people as well as the industry in so many ways, such as-
✔ Fast and easy diagnosis of patients:
Healthcare IT solutions have cut the long and expensive process of diagnosis into short and cheap one.
It has enabled them to monitor patients much efficiently and provide services to those who are serious and need special care.
Healthcare mobile app development services have also been a boon to remote people as now they can get in touch with doctors and get information without travel.
✔ Health reports are sent right into the phones:
This will prevent hospitals from crowded and never-ending unnecessary lines of people waiting for their turn to get their reports and will give patients relief for their saved time and energy.
Which in turn will boost brand value of the medical institution?
✔ From determining quality of sleep till measuring heart beat and much more:
These fab Health and Fitness Softwares have made it easy for people to track their sleep patterns, heart beats, calorie consumption, diabetes and much more so that they make health related decisions more consciously and accurately.
Healthcare mobile app development services have made the whole process ridiculously simple in a way that, when a patient steps into the hospital, phone number is being verified and after recording their issue prescription, reports and diets are shared with the reminder of the next appointment, all in a very short amount of time.
Medical Software and medical mobile app development have made it so easy and we at thirstyDevs Infotech Are making it much easier with the help of health and fitness apps that will display the information at a single touch and will follow your commands even while you are on a go.
Thus, our healthcare mobile app development services take all the necessary steps that will exactly match with your fitness goals and health requirements.